on 05/21/2018

If you're looking to replace the old incandescent and fluorescent bulbs in your high bay or low bay light fixtures, you will need to know which LED replacement to use. LED lights are incredibly beneficial due to their energy efficiency, cost effectiveness, and long lifespan. They can provide the same brightness at a low wattage and can last up to 25,000 hours. Replacing your existing light source for a LED bulb, in places like gymnasiums, warehouses, and auto garages can drastically lower your utility costs, but first, there are a few things you should consider before purchasing a new bulb:
Lumens v Wattage
LED lights are 4X more efficient than incandescent bulbs at producing light. Not only do LED replacement bulbs help you save money for the same amount of brightness, but they also have a longer life span. Although lumens and wattage go hand in hand, they aren't the same. A 100W incandescent could give off the same brightness as a 25W LED bulbs. See the chart below!
Lumens: Lumens measure how much visible light a source is giving off or the brightness of the bulb
Wattage: Watts measure the amount of energy that is consumed
Lumens Per Watt (lm/W): Measures how well a light source converts energy(W) into light(lm)
Efficacy: Allows us to compare light bulbs to see which is better, and as a result, the higher the lumens per watt, the better

Color Temperature: Color temperature is the measure (in Kelvin) of a light's color when it is illuminated.
CRI (Color Rendering Index): CRI is a measurement of how a well a light bulb will show an item's true color.
Know how much light you are able to get from a certain amount of electricity!
One lumen is equal to the amount of light that a candle emits. A candle is a unit of illumination that is equal to the light a candelabra gives off from one foot away. With the highest amount of lm/W, you want to aim for a LED light bulb that consumes the least amount of energy for the same amount of light. By finding this, it will also allow you to save money by not having to use as much energy.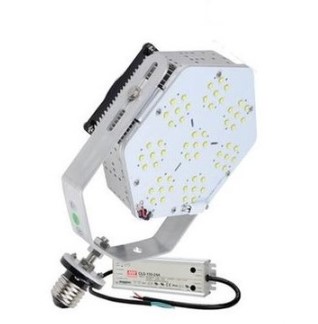 If you're looking to save even more money with your LED light, you should consider retrofitting. If you are looking to convert to high bay lights, retrofit kits are designed to replace the inefficient components of your existing fixture altogether.
Connect With Us!
Have you replaced any of your high or low bay fixtures with LED lights? Where would you use LED high and low bay light fixtures?
Let us know in the comments below and connect with us on Facebook and Twitter!