on 05/21/2018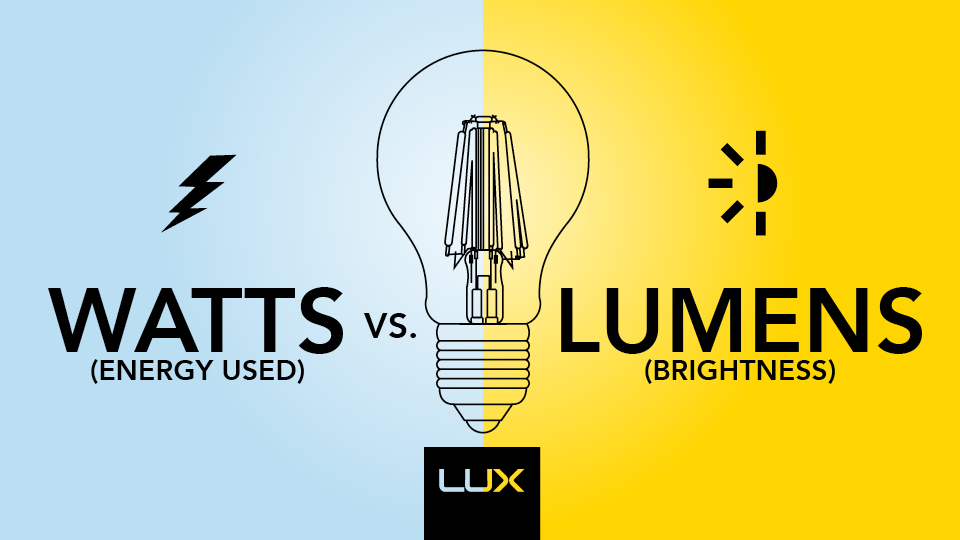 If you're looking to replace the old metal halide, halogen, and fluorescent bulbs in  high bay or low bay light fixtures, you will need to know which LED replacement to use. LED lights are incredibly beneficial due to their energy efficiency, cost effectiveness, and long lifespan. They can provide the same brightness as metal halide lamps at a lower wattage and can last up to 50,000 hours. 
Replacing your existing light source for a LED bulb, in places like gymnasiums, warehouses, and auto garages, can drastically lower your utility costs, but first, there are a few things you should consider before purchasing a new bulb:
The amount of lumens you need for your space

The amount of energy (W) you are using

Replacing or retrofitting metal halide fixtures to LED
Lumens v Wattage
LED lights are the best replacement option for high wattage metal halide bulbs. Not only do LED replacement bulbs help you save money while providing the same lumen output, but they also have a longer life span. A 400W MH high bay light producing 20,000 lumens would slowly lose lighting quality over the course of its lifespan. So, after a few months, that same 400W light would only produce about 14,000 lumens.
An LED high bay light, however could produce 20,000 lumens at a striking 200W. That's a 50% energy reduction! Not to mention, LED's have a lifespan over 50,000 hours. Unlike metal halide bulbs, LED lights are also compatible with motion sensor technology and lighting controls, cutting costs even more!
Although lumens and wattage go hand in hand, they are NOT the same. When comparing LED fixtures to metal halide fixtures, you want to find a light that uses a low amount of energy while having a high lumen output. To better explain:
Lumens: Lumens measure how much visible light a source is giving off or the brightness of the bulb
Wattage: Watts measure the amount of energy that is consumed
Lumens Per Watt (lm/W): Measures how well a light source converts energy (W) into light (lm)
Efficacy: The measure of how well a light source produces visible light and the power it takes to get it (3)
Color Temperature: Color temperature is the measure (in Kelvin) of a light

'

s color when it is illuminated
For a better understanding of how these components work together: (3)
Technology

CRI

Efficacy

(lm/W)

Lifetime

(hrs.)

Color Temperature (K)

Compact Fluorescent

80-90

60-70

6,000-10,000

2700-6500

Incandescent

100

12-18

750-1,500+

2400-2900

Linear Fluorescent

70-90

80-100+

20,000

2700-6500

Halogen

100

16-29

2,000-4,000

2850-3200

LED

65-90

20-50

Up to 100,000

2700-6500
One lumen is equal to the amount of light that a candle emits. A footcandle is a unit of illumination that is equal to the amount of light a candle puts out in 1 square foot. With the highest amount of lm/W, you want to aim for a LED light bulb that consumes the least amount of energy for the same amount of light. By finding this, it will also allow you to save money by not having to use as much energy.
Comparing LED to MH High Bay Fixtures
Not only are LED lights superior to MH high bay light fixtures in terms of energy efficiency, life expectancy, and overall savings, but they also have the instant ON feature. Unlike MH lights, LED lights don't need to warm up for 2-5 minutes, but can be turned on instantly, no matter the temperature. They also don't need to cool down before turning back on, which is very beneficial if there was ever an outage or flicker that occurred.
Another point that you need to consider is that ballasts don't last! Most ballasts will go out way before the fixture, but a bad ballast could potentially use more power (wattage), while the light slowly loses its brightness. So, all in all, having to use a ballast is a waste of money and energy. LED replacements are the optimal choice because they don't require a connection to a ballast like MH bulbs and still produce the same, if not higher, lumen output. Take a look for yourself:
Wattage: (1)
| | |
| --- | --- |
| LED High Bay Light (W) | Metal Halide High Bay Light |
| 30-80W | 150W |
| 90-150W | 250W |
| 180-200W | 400W |
| 250W | 600W |
Lumens: (2)
| | | | |
| --- | --- | --- | --- |
| Initial Lumens | Metal Halide | Lumens | LED |
| 3400 | 50W | 1000 | 10W-12W |
| 5600 | 70W | 2000 | 15W-20W |
| 8500 | 100W | 2500 | 20W-25W |
| 10000 | 125W | 3200 | 28-30W |
| 11000 | 150W | 4600 | 36W-40W |
| 1500 | 175W | 5800 | 45W-60W |
| 22000 | 250W | 7000 | 54W-70W |
| 36000 | 400W | 14000 | 100W-120W |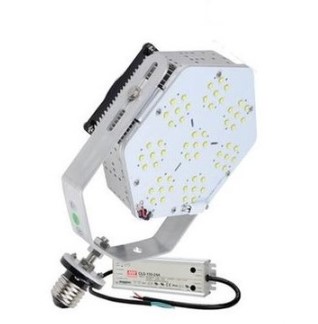 If you're looking to save even more money with your LED light, you should consider retrofitting. If you are looking to convert to high bay lights, retrofit kits are designed to replace the inefficient components of your existing fixture altogether. This is an easy switch to make since there is already an existing fixture, but for the longest life, make sure to remove the lens of the fixture. This will allow the heat to escape and not be trapped in the fixture to lessen the life span of your LED light. They can also increase the quality of your light output and the energy efficiency!
You can also choose from using high bay linear lights, that work well in garages, warehouses, and retail stores, or LED UFO high bay lights for gymnasiums, manufacturing facilities, and some warehouses. Depending on the height of the light will also help determine which lighting fixtures you need. For example, if you are wanting bright and adequate UFO high bay lighting, the fixture should be about 20 feet above the floor and around 12-14 feet apart.
These lights may be the most expensive for up-front costs, but will help you save in more ways than on in the long run! 
Connect With Us!
Have you replaced any of your high or low bay fixtures with LED lights? Where would you use LED high and low bay light fixtures?
Let us know in the comments below and connect with us on Facebook and Twitter!
References:
1.    https://www.ledlightexpert.com/How-many-lumens-do-I-need-from-my-LED-Light-How-Bright_b_6.html
2.    https://www.takethreelighting.com/lumen-watt-comparison.html
3. http://www.energyconscious.com/learning-center/what-is-efficacy-in-lighting/