on 06/11/2018

When it comes to replacing or upgrading your high bay or low bay light fixture, there are a few components you should take into consideration. Before you decide on what fixture you need, it is imperative you determine the LED equivalent to your current fixture, and then determine which type of fixture would be best suited for the size of your space.
Providing a brighter light while emitting less energy than metal halide bulbs, LED lights are the superior option to brighten your space. They are also better at retaining light intensity and color consistency over time with a lifespan of up to 50,000 hours!
What is Bay Lighting?
High Bay – A high bay light is used for ceiling heights that are greater than 20 feet. These lights would be best suited in warehouses, factories, and hangars. High bay lighting fixtures typically have a 90-degree beam angle.
Low Bay – A low bay light is typically used for ceilings that are between 12 and 20 feet, such as workshops or parking garages. A low bay lighting fixture typically has a beam angle of 120 degrees and are most commonly around 60W-100W.
How do I know which bay light I need?
The first thing tha tyou have to determine when choosing a fixture is knowing which fixture you need. A bay light has higher wattage requirements and usually produce over 8000 lumens to help light large spaces such as warehouses, industrial worker spaces, car garages, gymnasiums, and more.
When deciding on a beam angle to get the most adequate amount of light, a good rule to follow is "the higher the ceiling, the lower the beam angle. The lower the ceiling, the wider the beam angle can be."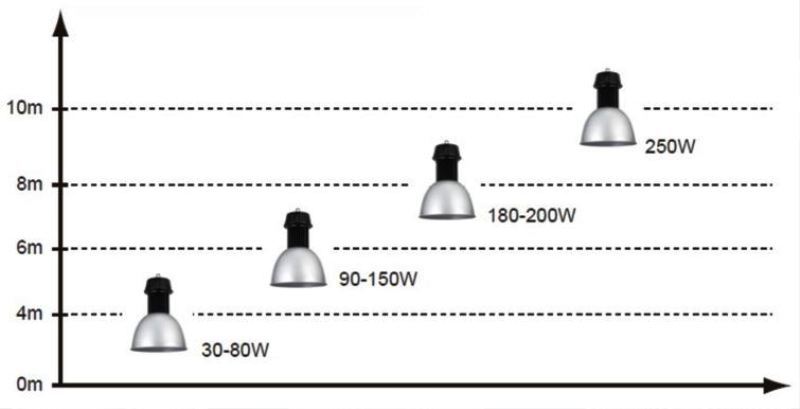 Learn how to measure how many bulbs you will need to light your space with our Commercial Lighting Guide!
From Metal Halide to LED
When it comes to upgrading your lighting system, there are different facets that you should compare, such as lumen output, wattage, beam angle, and ceiling height. Before you choose a light fixture, you must find the LED equivalent that works best in your space.
The first step is to look at the wattage of your existing metal halide bulbs and find the correct LED replacement. Because LED lights are more energy efficient that traditional high bays, they don't use nearly as much power and can produce the same amount of brightness for a longer amount of time.
There are many different LED replacement options ranging froma 175 W replacement to over a 1000W replacement hight/low bay fixture.
Use the chart below to help you find the perfect replacement option for you!  
| | | |
| --- | --- | --- |
| Ceiling height | MH Wattage | LED Wattage |
| 13 ft. | 150W | 30-80W |
| 20 ft. | 250W | 90-150W |
| 26 ft. | 400W | 180-200W |
| 33 ft. | 600W | 250W |
Keep in mind that when switching from a MH, HID, or HPS bulb, and LED bulb would be producing the same amount of brightness while using less energy. On average, 1 lumen per square foot equals 10.76 lux (measure of illumination).
Weighing the Options: Should I retrofit or replace my high/low bay light?
Retrofitting your high bay or low bay fixtures can also be a great option for you when upgrading your lighting system. Retrofitting allows you to keep the same fixture by simply rewiring the components of the light. This option more cost effective and, in some cases, much easier to install.
If you're still not sure if retrofitting is right for you, let's weigh out the pros and cons!
PROS:
Ballast can be removed and won't use extra energy
Most retrofits have dimmable capabilities
More expensive up front, but will save you money in the long run
Less maintenance and labor over time
CONS:
If not installed correctly, the fixture and bulb can explode
You shouldn't use if the entire fixture has any aging or deteriorating
LED retrofits are also better for you to use than metal halide bulbs because they will make sure you don't use any extra energy and maintain the same color consistency throughout their lifetime.
When deciding what to do, you first need to decide if you want to install a completely new fixture (retrofit kit) or if you want to rewire a new fixture (ballast bypass, line voltage, and direct wire).
Then, you'll need to find your LED equivalent.
Finally, choose form a variety of high bay and low bay fixtures that work best for you!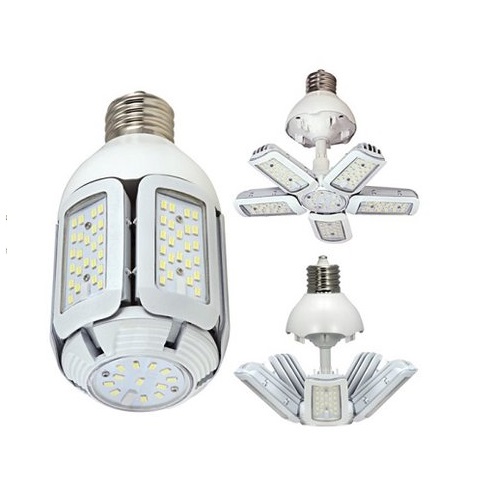 To learn more about retrofitting, click here!
Types of High Bay/Low Bay Fixtures
There are many different types of high bay and low bay fixtures to choose from. Whether you decide to retrofit your existing fixture or replace the whole thing altogether, there is no shortage of possibilities.
Should you decide to go the retrofitting route, you can choose from corn bulbs, shoebox retrofit kits, or new screw-in lamps. However, some of our most popular replacement options are LED, UFO, and Linear fixtures.
Popular round light fixture design
Designed to replace any high or low bay light fixture depending how many watts you need/have
Easy to retrofit into an existing fixture
Ideal for areas where maximum amounts of space lighting are most efficient for both high and low bay heights
Linear high bay lights are often used in indoor classrooms, offices, and long conference rooms
Commonly used in large packing and sorting areas of warehouses
Great for general lighting purposes and areas where there is tall shelving
Corn bulbs can easily screw into your existing fixture

 

 
Retrofitting with Shoebox Retrofit Kits 
 

 
Overall, LED high bay and low bay fixtures are incredibly beneficial for lighting large areas of space. Depending on your aesthetic, you can choose which replacement option is best for you. Start saving on cost, maintenance, and energy consumption today!
Watt do you think?
Have you replaced any of your high or low bay fixtures with LED lights? Which option did you choose?
Let us know in the comments below and connect with us on Facebook and Twitter!
Other Blogs You May Like: