General Protecht GXU2GW-EM White LED Exit Sign w/ Green Letter & Battery Backup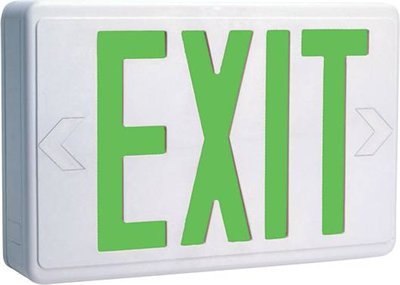 Comparable Exit Sign Products
General Protecht GXU2GW-EM Description
Universal Mount LED Exit
Available colors: Black or White
Lettering Colors also available: Red or Green
Thermoplastic housing
Slim and low profile LED exit sign provides a crisp, clean appearance
Excellent energy savings
Long-term maintenance is reduced
Ideally suited for use in retail, office, education, hospitality/lodging, institutional and multiple dwelling applications
Approved for damp locations
Fully automatic operation
Compact, low-profile design in neutral finish
Battery Backup Included
Product Specification
Application Type
Exit Light
Manufacturers Parts Number
GXU2GW-EM
Manufacturer Description
Automatic low-voltage disconnect (LVD)
120/277 VAC operation
Injection-molded, V-O flame retardant, high impact,
thermoplastic housing
Charge rate/power LED indicator light
Energy consumption of less than 4 watts for red letters and
less than 2 watts for green letters
LED lamp life of 25+ years
UL listed for damp location
Universal mounting canopy for side or top installation
Standard AC Only Units available. AC only exit signs do NOT have
battery backup. AC only units are designed for use in a building that
has an alternative backup power source, sunch as a generator, that
provides power to the entire building in the event of a power outage
and operates from primary building power source under normal conditions
Ni-Cad battery power on emergency (EM) units. The Ni-Cad
batteries charge during normal operation. When a power failure
in the building occurs, the electronic circuit senses the change
and automatically switches to the backup batter power. After the
primary power to the building is restored the unit switches back to
normal mode and recharges the batteries. Allow 24-hours to fully
charge batteries after installation. A push to test switch is located
on the lower side of the exit sign. When the test switch is pushed
power is interrupted to the exit sign and the batteries switch on.
During the test the exit sign should remain on with the batteries
powering the exit sign.
On the Dual Circuit units, a second circuit allows the use of the
outside sources of energy in emergencies as from generators.
One circuit then is wired to the main power source of the building
and the other ciruit can be wired directly to an alternative power
source. This configuration eliminates the need for an internal
battery backup and reduces long-term maintenance of the exit sign.
General Protecht GXU2GW-EM Reviews