on 11/28/2017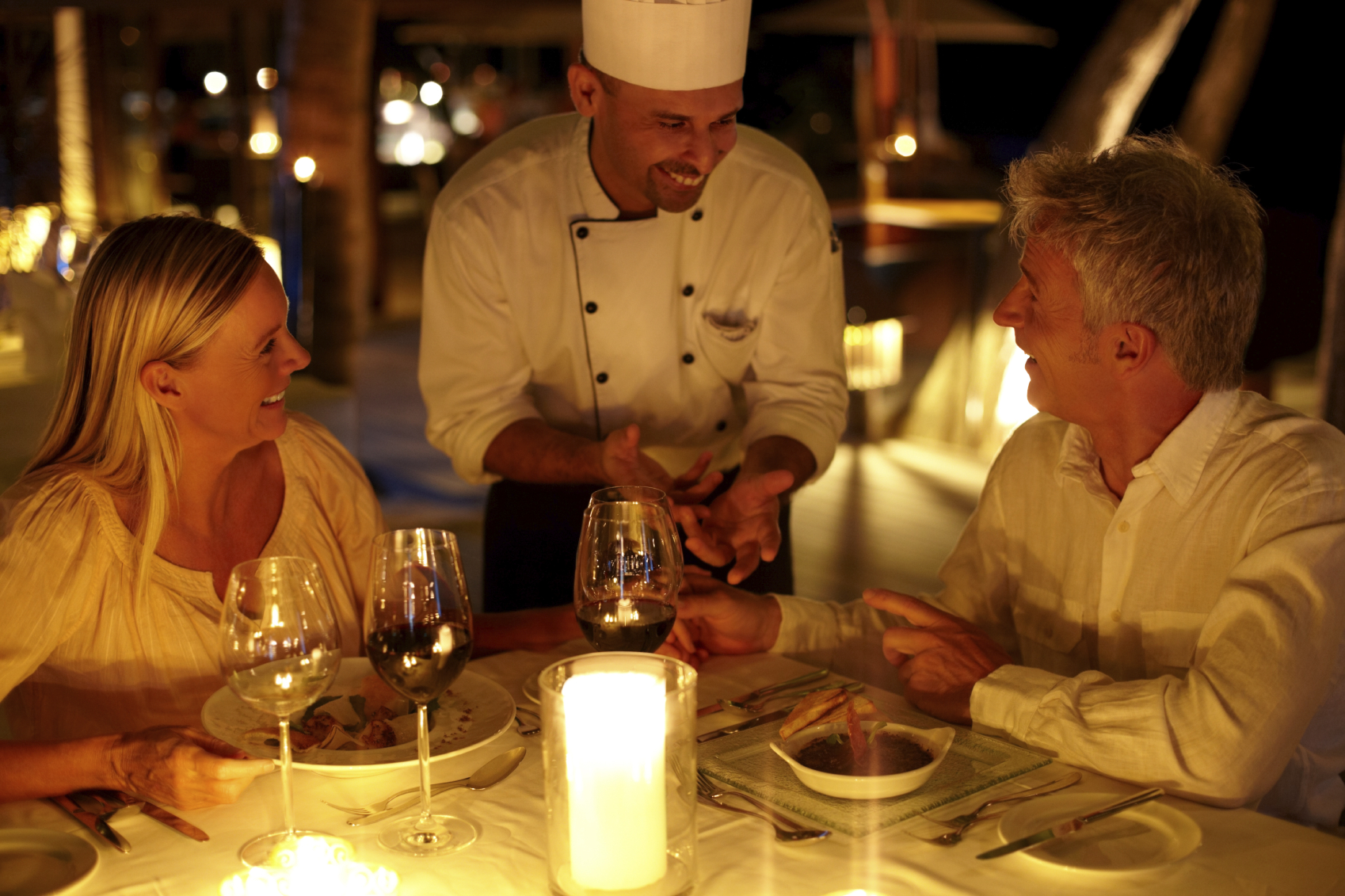 People enjoy restaurants that are inviting, and set a certain mood. The right lighting should serve the purpose of creating an inviting, and safe environment for its customers. Whatever experience you want your occupants to have is all dependent on how you choose to light the space.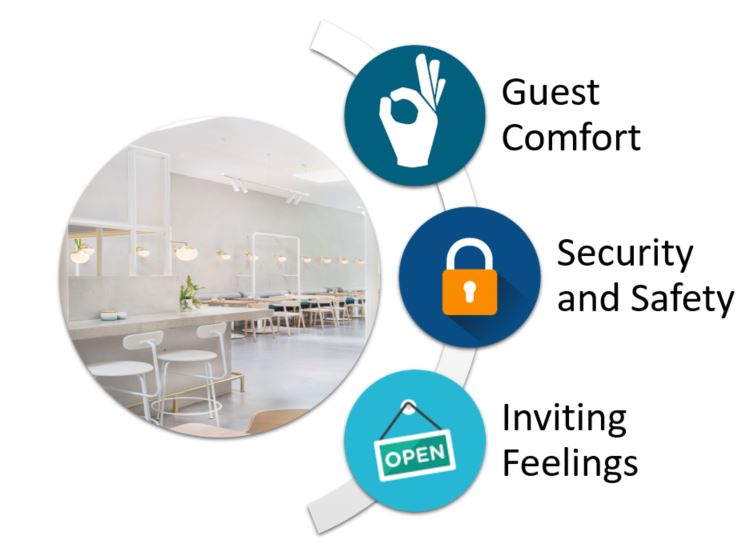 Great lighting can not only brighten up a space, but can be used to heighten the level of attention and improve the perception of your restaurant. When choosing a lighting design plan for your restaurant or other commercial hospitality spaces, there are some factors to consider:
Square Footage of Space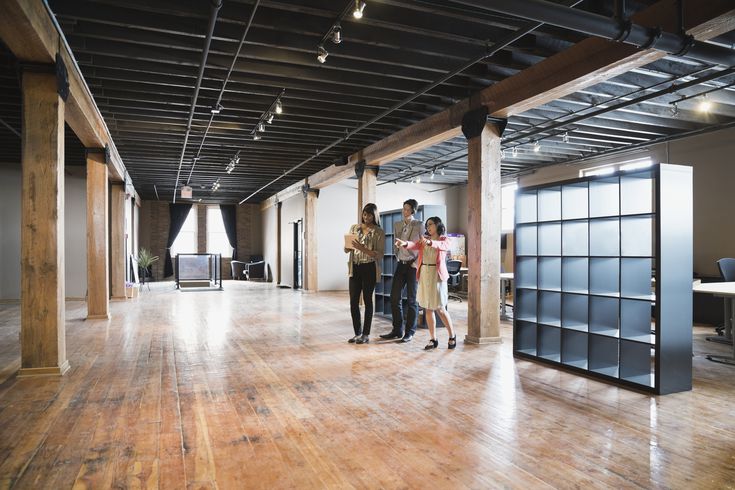 This may sound like common knowledge, but not every space will need the same number of light fixtures. Before you can determine the number of light bulbs you need, where to place them, and how bright you want them to be, you should measure the square footage of the entire space first.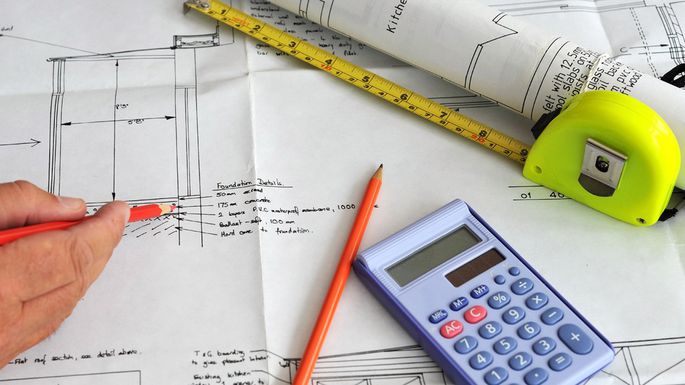 Desired Level of Brightness
Sometimes referred to as zoning, take the time to plan out the areas of your restaurant that will need the most light. Consider all the areas in a restaurant that should be well-lit, like service hallways, service areas, etc. After determining the size of your space, measure the total lumens needed to brighten up the space.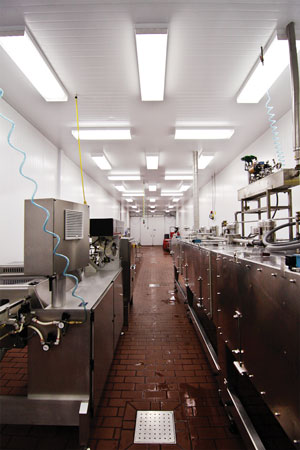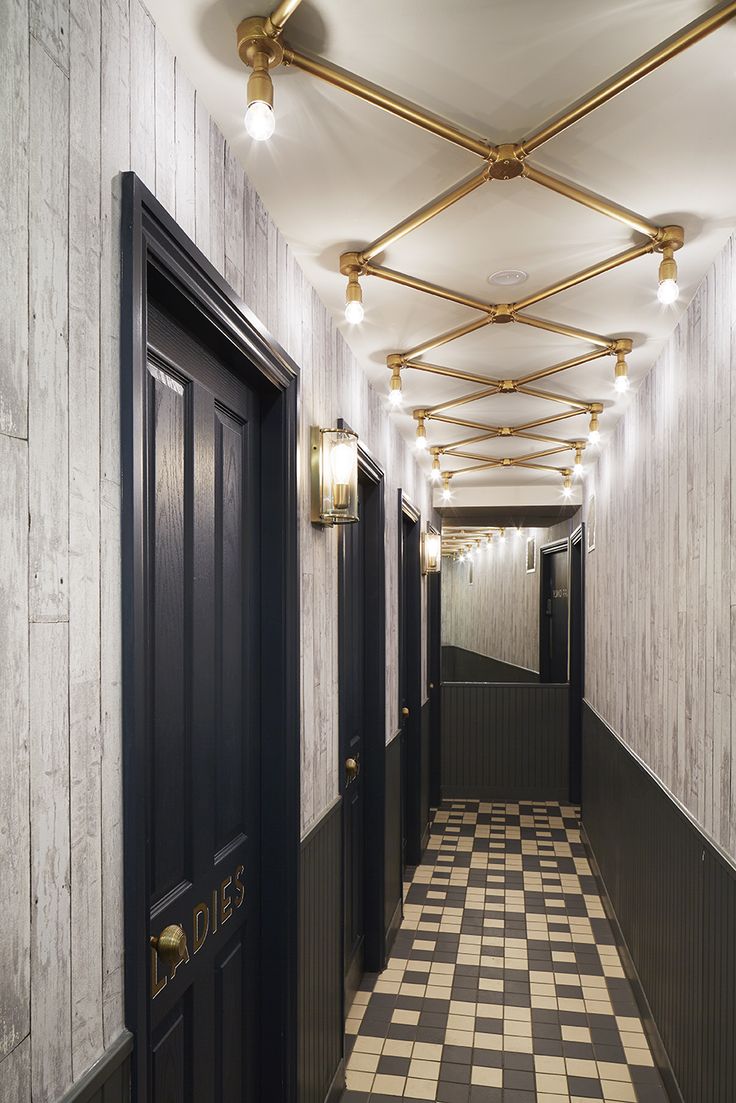 To learn how to calculate lumens per square foot, check out our Commercial Lighting Application Guide
Ceiling Height & Type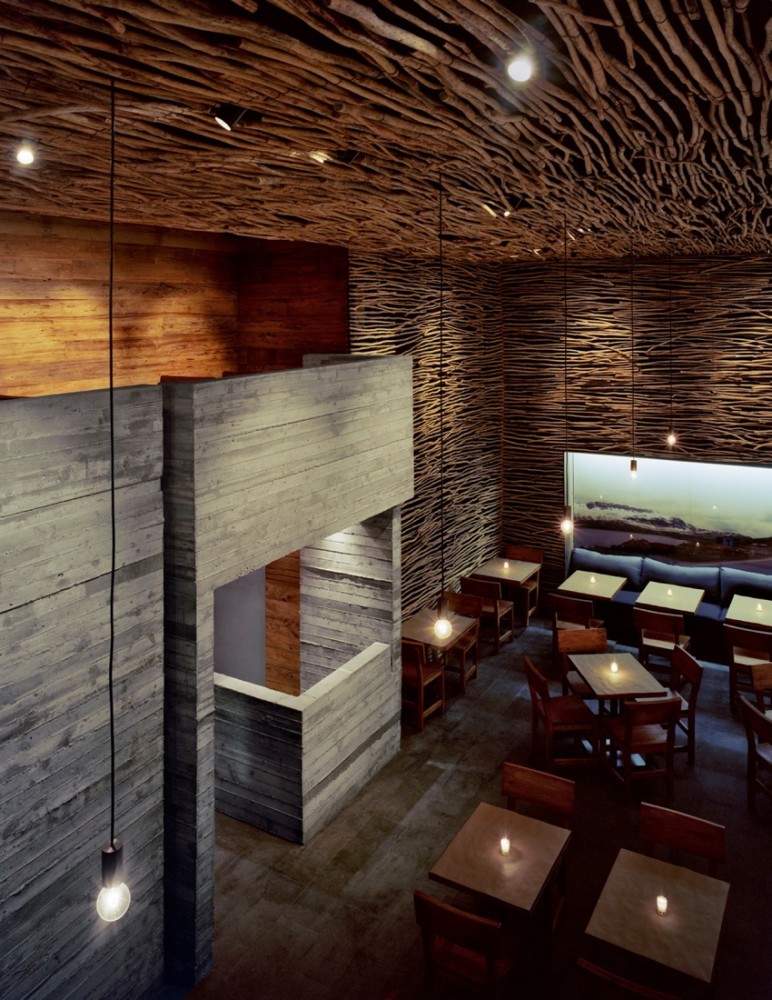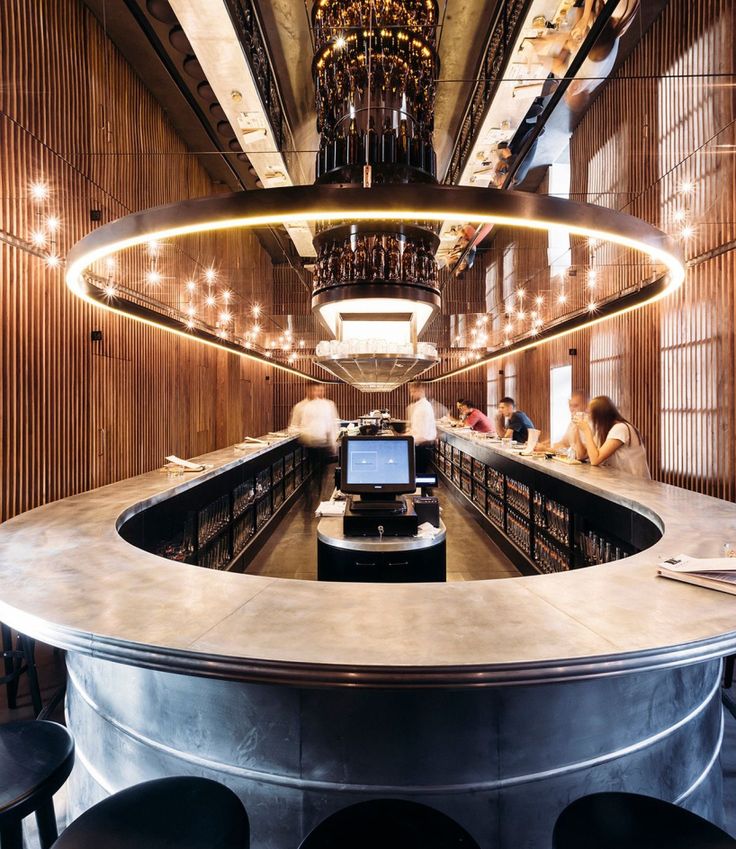 When choosing the right lights for your restaurant, make sure you have measured your ceiling. Having the correct ceiling height will be the most helpful in figuring out the right level of brightness and beam angle of your light bulbs.
Higher ceilings need light bulbs with a high light output (lumens), while lower ceilings can have bulbs with a lower lumen count. Another factor to consider is the type of ceiling you have. This will determine the kind of light fixtures will be able to be installed. For example, recessed ceilings need different lights than concrete ceilings, and vice versa
Color Temperature & Color Rendering Index (CRI)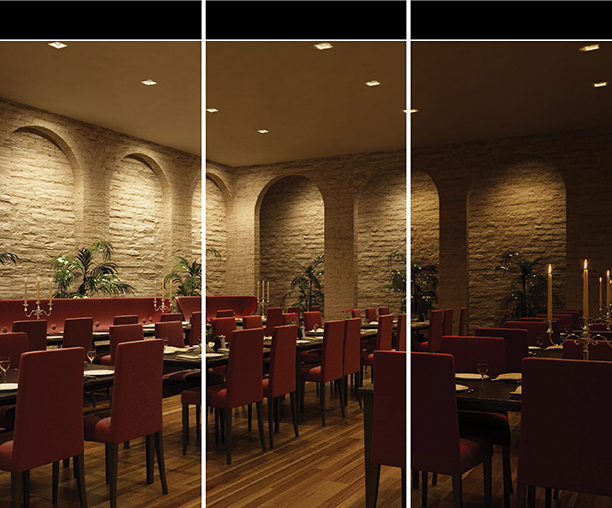 Using light bulbs with the same color temperature and a high color rendering index can provide an even and consistent ambient tone throughout the entire space. The higher the CRI, the brighter and better the colors will appear.
While warm light can make a space feel smaller and more intimate, cooler lights can make areas look bigger and brighter. Simply decide the level of warmth or coolness, you desire for you space, make sure that they have a high CRI, and choose the bulbs that match.
Refer to the chart below for more help: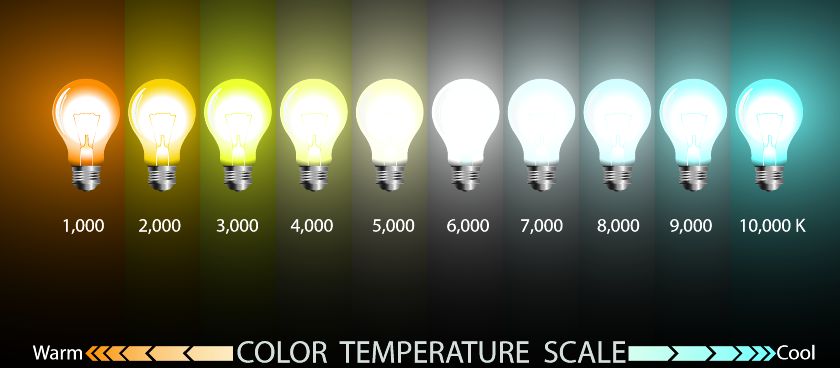 Color of Walls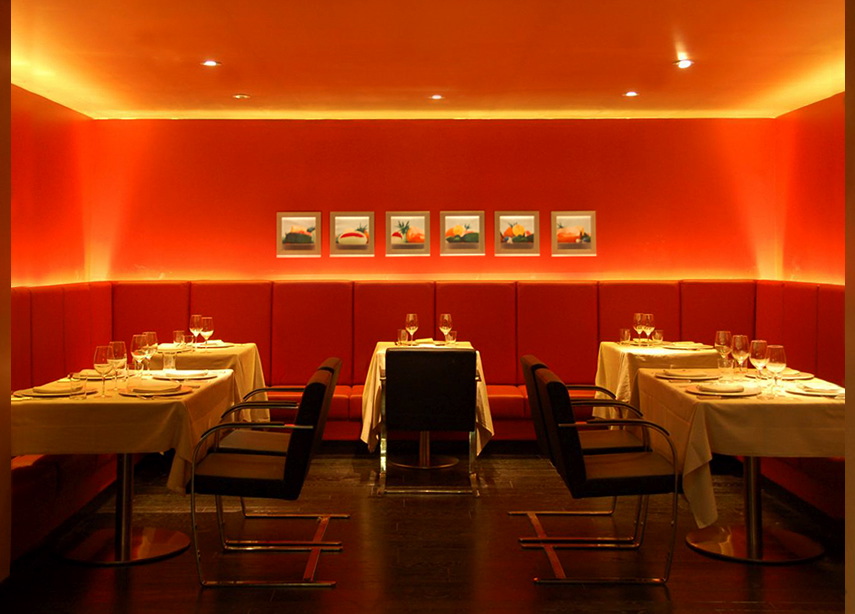 While you may not have thought about it, the color of your walls can make a big difference in lighting your building. White walls can give a uniformed brightness that is great for reflecting light and making spaces look bigger and brighter. Commercial spaces with darker colored walls can create a more intimate mood lighting.  
Accent Lighting Areas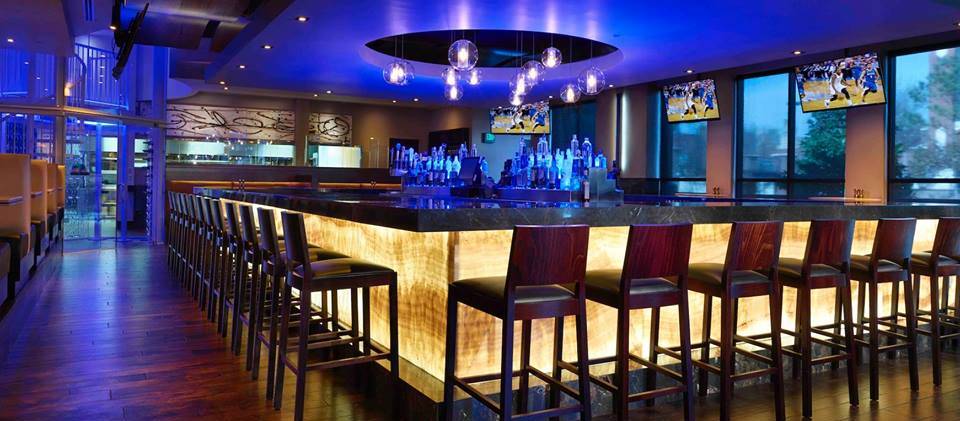 Accent lighting can help emphasize important areas of your restaurant. These lights are meant to add depth, contrast and create a focal point for the eyes. Great for displays and highlighting certain areas, accent lights can create the perfect desired atmosphere for your space.
Customer Traffic
Understanding where people will be entering, exiting, sitting, or standing are all important factors to consider when choosing the right lighting design plan. Hallways leading to bathrooms should be well lit, while dining areas may be dim for a more intimate experience.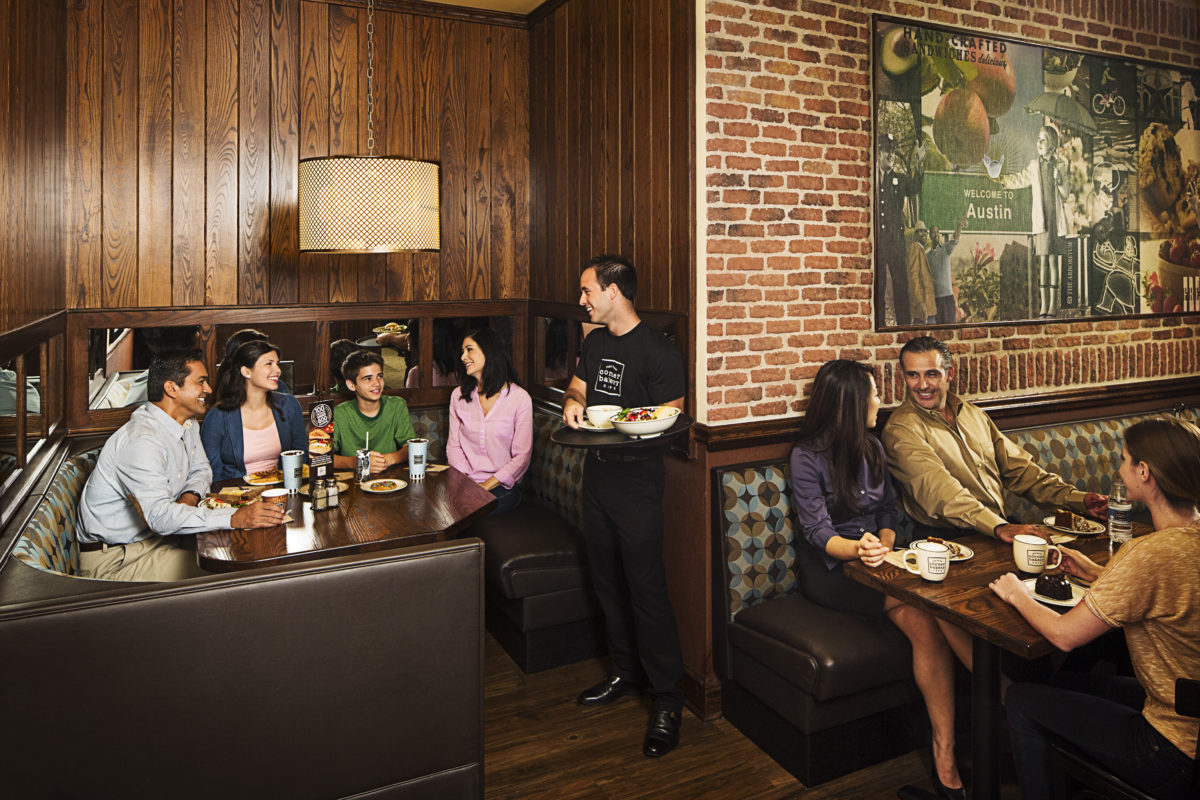 Light Fixture Type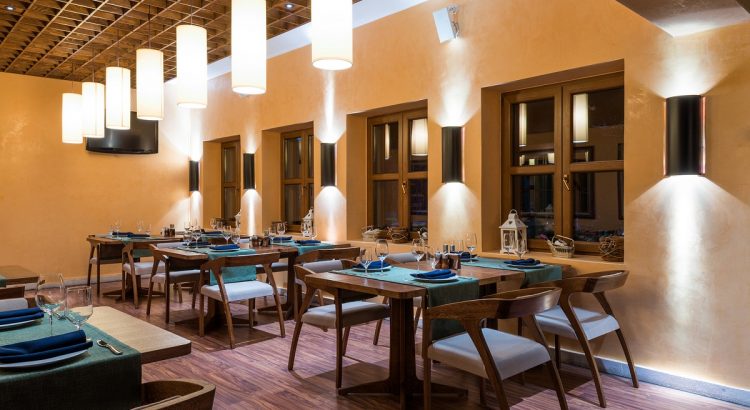 Now that you have considered brightness, color temperature, and light placement, here comes the fun part. From vanity lights, to recessed downlights, wall sconces, and other decorative light fixtures, the design elements are up to you!
You may also enjoy reading: 
Stay Connected!
We need your help! Want kind of blogs would you like to read about? Leave us a message in the comment section below!
For blog updates and free giveaways, like us on Facebook and follow us on Twitter!