By
david_lu
Are you in a position to replace your old fluorescent tubes (LFL,) and you are not sure if T8 LED tube is the right solution for you? Our HomElectrical BrightIdeas team has put this guide together to help you navigate through the many options.
Why Should I Upgrade To LED Tube When Fluorescent Tubes Are Only $2 Each?
Besides the obvious of up to 70% reduction in power consumption, they are 5 good reasons of why you should do it:

More Efficient, More Reliable, More Consistence
LED tubes produce NO INFRARED heat. In term, LED gives off very minimal heat.
LED tubes last (50,000 hours) on average twice as long as a LFL (15,000 – 30,000 hrs.)
LED tubes do not change the light quality or color temperature over its lifetime.

Rebates, Rebates, Rebates
They are gazillion dollars available from the federal government to your local power company. But, don't wait! Those rebates are not going to last forever. Please make sure you check with your local government and power company for all available rebates.

More Versatile
The lifespan of a fluorescent tube can be significantly shortened by switching them on and off often. LED tubes are much friendlier with all the available lighting sensors and controls since their lifespans are not effected by constant changes. To put the cherry on top, some of the newer LED tubes can also be dimmable.

No More flickering, No More Buzzing, No More Ballast.
The flickering and buzzing that you experienced from your LFL fixture occurs when the ballast and the fluorescent tube's inner gas are no longer playing nice. Since LED is not regulated by a ballast nor a gas is needed to lit, those annoyances simply do not exist. By the way, ballasts can cost as much as $30 and last between 1-3 years. The craziest thing is that they are also responsible for an additional 20%-30% power consumption per fixture.

Better for the environment
Unlike fluorescent, LED tubes contain NO MERCURY which eliminate the harmful effect to ourselves and the environment. This also makes it much easier to dispose.
BONUS: Significant reduction in maintenance cost
Which Linear Fluorescent Lamp Do I Have?
Fluorescent tubes come in various diameters and lengths. However, 4-ft T5, T8, and T12 are going to be your most common type.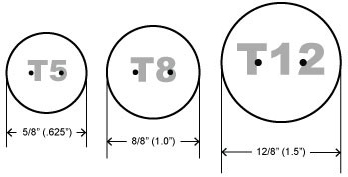 To simply answer this question, it really depends on when your fixtures were upgraded.
T12 fluorescent fixtures are being phase out and are much less efficient than T8 and T5. Our best guess is that you probably have either a T5 or T8 linear fixtures, if they have been installed in the last 15 years.
You will traditionally find T8 fluorescent in retail spaces, commercial offices, hospital, schools, hotels, and nursing home.
T8 Fluorescent LED Tube Replacement
Since T5 lamps are the most efficient fluorescent tubes and they are available at higher wattages, they have been adopted to replace aging metal halide or pressure gas lighting environments such as warehouse space, workshop, hangar, retail space, and auto body shop.
T5 Fluorescent LED Tube Replacement
As far as the aging T12 fixtures, they were widely used across commercial, retail and institutional businesses.
T12 Fluorescent Tube Replacement
Now that you have learned the benefit of replacing your fluorescent tube to T8 LED, will you join the LED movement?
Title:
LED Fluorescent Tube Replacement Guide