on 08/06/2018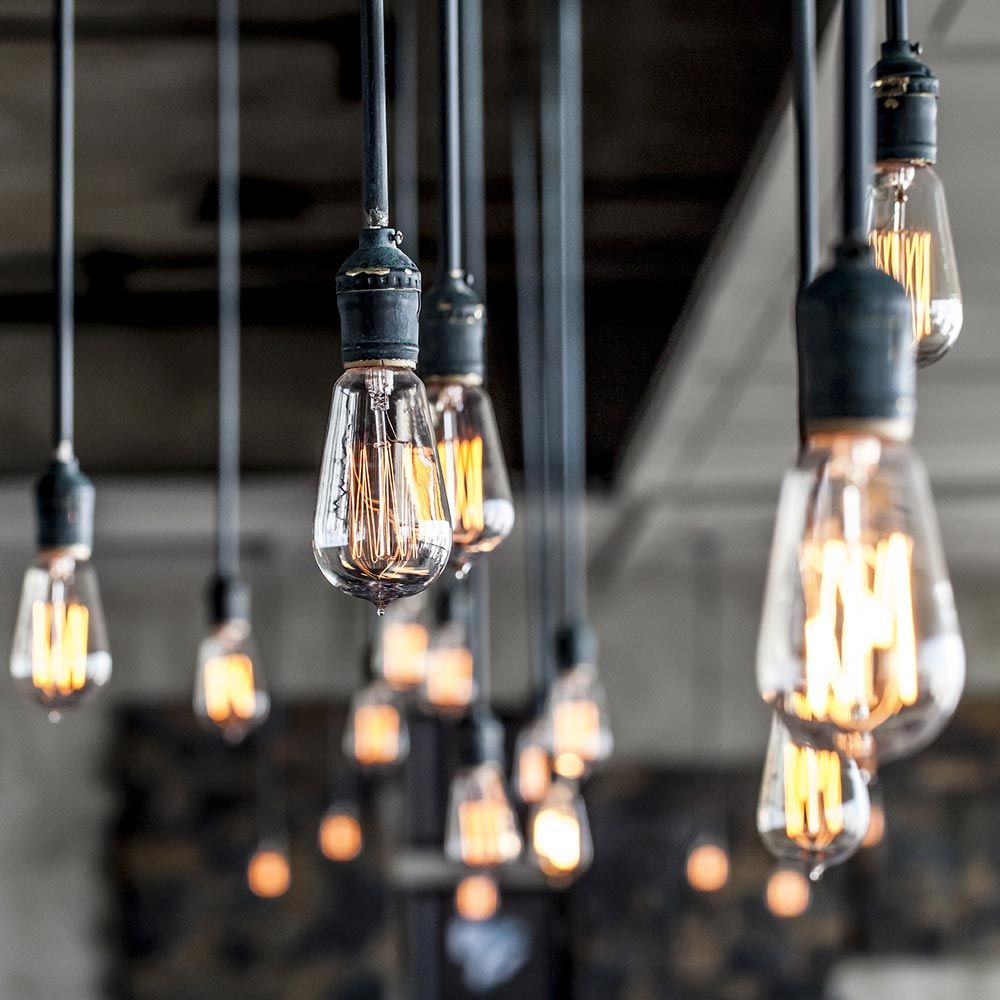 Light bulbs are differentiated by their physical shape, size, and their bulb socket type or base. Just like it says in the name, LED Edison bulbs have Edison bases. Each bulb type has a respective bulb socket type, primally candelabra (E12) or medium (standard E26). This makes them an easy "plug and play" alternative to incandescent bulbs.
Can I Use My Existing Fixtures with LED Edison Bulbs?
A light bulb's size is determined by the maximum overall diameter (MOD) of the bulb's shell. This measurement is represented as an eighth of an inch. For example, an A19 LED bulb has an overall diameter of 19/8ths or 2.375 inches. The maximum overall length (MOL) is determined by measuring the length from the lamp base to the top of the bulb.
Always be sure to check the MOD and MOL of your light bulb to make sure it will fit in your existing fixture. It's also important to check what type of lamp base you will need to screw into your current fixture. For example, all A19 bulbs have a standard (E26) medium base.
Each light bulb offers a different shape and style that helps determine which light fixture you will need.
The most common Edison bulb types and bulb socket types are as follows:
Bulb Type

Bulb Type

Base Type

Where to Use

A15

E26

A15 bulbs work with many enclosed household fixtures, such as desk or table lamps. 

A15 bulbs have a smaller diameter than A19 bulbs.

A19

E26

A19 LED bulbs are standard replacements for incandescent bulbs

Many hotel owners are switching to A19 Edison bulbs to decrease theft from guests because they resemble incandescent bulbs.

B10

E12

B10 bulbs are ideal for light fixtures with a small candelabra E12 base.

B10 Bulbs can be used in chandeliers, pendant lights, and a variety of vintage wall sconces.

B11

E12

B11 Bulbs imitate the look of a candle and come in a variety of warm antique finishes.

The torpedo-shaped bulb design is a perfect addition to your chandelier, wall mount, or outdoor light fixtures.

BT15

E26

BT bulbs stand for bulge or "blown" tubular, which is a term used to describe the shape of the light bulb.

The higher the number after the prefix (BT), the larger the bulb is. They feature a standard medium E26 base and can be used in a variety of decorative light fixtures.

These bulbs come in a variety of sizes and are commonly used in pendants, downlights, and various decorative ceiling fixtures.

BT56

E26

BT38

E26

C11

E12

C11 bulbs are in the candelabra family and are commonly used for pendant lights and chandeliers.

They come in both small and medium Edison bases, so make sure to check your fixtures before purchasing.

 

C11

E26

CA11

E12

E26

CA11 LED filament bulbs feature a flame-tip shape that makes them great for decorative light fixtures, such as chandeliers.

CA11

E26

G16.5

E12

Commonly used for globe lighting.

Used in a variety of decorative fixtures, including chandeliers, pendant light, and flush mount fixtures.  

From flush mounted lights to hanging pendants and outdoor post lights, globe lights are the perfect addition to your space. 

Can be used in standard E36 light fixtures or fixtures with E12 sockets.

Depending on the size of your fixture, Type G bulbs come in a variety of sizes ranging from small G16.5 globe lights, perfect for outdoor pendant lighting, to large G40 bulbs, which are great for wall sconces.

G25

E26

G30

E26

G40

E26

PS52

E26

PS52 light bulbs are longer bulbs that are ideal for various indoor and outdoor light fixtures.

PS stands for "pear straight," since the bulb's tube resembles a pear shape.

ST18

E26

ST, or "straight tubular" bulbs are elongated tubed bulbs shaped with a straight edge and a tubular end.

Commonly used in various wall mounted, post mounted, or ceiling mounted fixtures with a medium
(E26) base.

ST19

E26

T10

E26

Tubular- are tubular shaped lamp with a rounded tip.

T bulbs are used in a variety of different "mid-century modern" fixtures.

Tubular Edison bulbs come in a variety of lengths.

Versatile alternative to traditional antique incandescent bulbs.

Features a stand "screw-in" that easily twists into any fixture equipped with a candelabra or standard base.

T24

E26

T6

E12

T9

E26
Watt's Next?
Are you interested in upgrading your lighting design? Which Edison bulb do you think will work best with your space!
Share your thoughts with us in the comments below!
For blog updates, funny memes, cool videos, #RiddlesOfTheWeeks, free product giveaways, and more…
Like us on Facebook and follow us on Twitter!
Related Blogs & Resources
---
References: