Stelpro Smart Electronic Low Voltage Thermostat for Convection-Mode or Forced-Air Heating
Stelpro STE241W24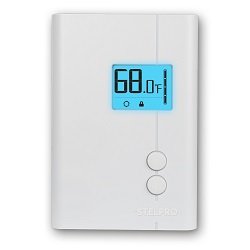 Comparable Digital Thermostat Products
Stelpro STE241W24 Description
STELPRO STE241W24 Smart Electronic Thermostat, Convection-Mode or Forced-Air Heating Units features:
Compatible with electric furnaces and Stelpro RE series heating relays
Adjustable cycles to accommodate either convection-mode or forced-air heating units
Acts like programmable thermostat by automatically lowering the temperature once per 24 hour period
Features lock option at a maximum temperature set point, frost-free warning, and accurate temperature control
Temperature range between 37 and 86°F
Accurate within .18°F
Display in either Fahrenheit or Celsius
Wattage and voltage ranges: 12W at 24 V
3-year warranty included.
Product Specification
Manufacturers Parts Number
STE241W24
Manufacturer Description
The STE241 low voltage electronic thermostat (24 V) has been designed to efficiently control relays (electronic or not). Those relays can control electric units with or without fans and electric furnaces. It can also be connected to all Stelpro relays (with or without transformers). It is the perfect unit for the replacement of low voltage mechanical thermostats.
Stelpro STE241W24 Reviews