Stelpro Maestro Zigbee Smart Programmable Thermostat, Black
Stelpro ASMC402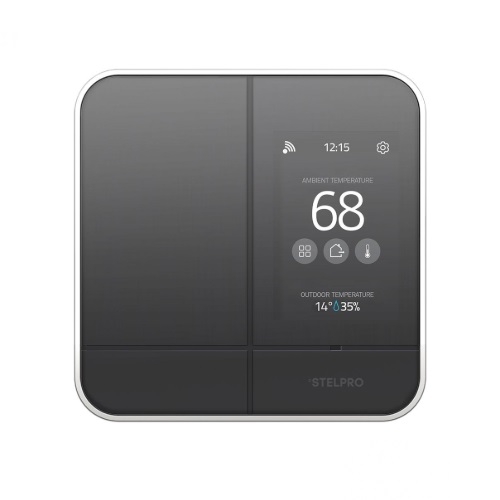 Shop today to find a Stelpro Programmable WIFI Thermostat with Zigbee control and a colored screen to help adjust the temperature in your home with any smart phone, tablet, or laptop at HomElectrical!
In stock
Usually Ships 1 to 2 Business Days
Comparable Smart Thermostat Products
Stelpro ASMC402 Description
Stelpro Maestro Smart Programmable Wifi Thermostat w/Zigbee Control 240V, Black features:
Don't have a Zigbee Controller? Don't worry! The Maestro Controller & Thermostat combo has an internal zigbee controller to save you an extra step. Simply install and connect to wifi and you're good to go!
Maestro Smart Programmable Thermostat includes a color touch and motion-activated screen
Easily wires into your current wiring to replace your old thermostat
Sensory and Energy consumption modes available to detect open windows and other energy consuming factors
Group similar rooms into zones to avoid wasting energy
Control the temperature according to activity level
Geofencing feature allows thermostat to know when you come and go and adjusts the temperature accordingly
Connect with the App on your i0s or Android devices and control the temperature, set programming, and get error and energy reports sent to your device
Compatible with all electric baseboard heaters, convectors, and fan heaters
Displays outdoor relative humidity and temperature
Temperature control accuracy of 1 degree fahrenheit
Temperate range of 41-86 degrees fahrenheit
2 or 4 wire options for connections
Compatible with WiFi b/g/n
Power consumption of 300-4000W at 240V
260-3400W at 208V
Frequency: 50/60 HZ
Product Specification
Control Style
Double Pole
Manufacturers Parts Number
ASMC402
Maximum Amperage
16.7 Amp
Manufacturer Description
Maestro, our most advanced smart thermostat to date, is designed to give you full control over your comfort. Thanks to its features and user-friendly mobile interface, you can now manage and personalize your home's heating easily and save on your electricity bill. Designed, manufactured and tested in Canada, Maestro is perfectly suited to our rigorous conditions and the zone heating systems widely used here.
Stelpro ASMC402 Reviews