Stelpro 4000W Smart Electronic Thermostat, Z-Wave Compatible
Stelpro STZW402WB+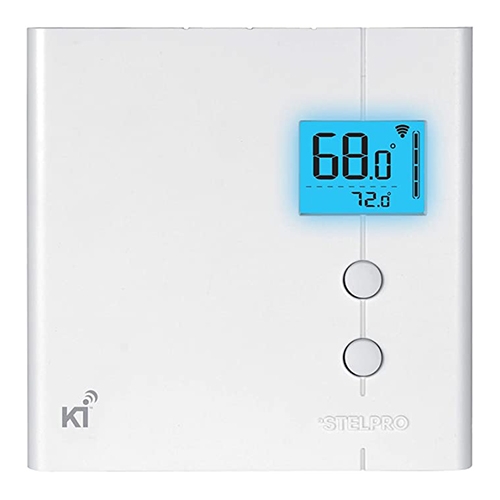 Adjust the temperature of your home or office building using the Z-Wave technology of the Stelpro Ki electronic thermostat.
In stock
Usually Ships 1 to 2 Business Days
Comparable Smart Thermostat Products
Stelpro STZW402WB+ Description
Stelpro Ki Z-Wave 4000 W Electronic Wall Thermostat for the Smart Home features:
Can be controlled with your smartphone, tablet or computer
Offers energy management modes for increased energy efficiency
Provides energy savings of more than 30 percent with day/night temperature reduction
Personalized scene activation integrates easily into the smart home
White, molded plastic finish
Features 2-wire connection to the heater
Simple programming
Thermostat can display outdoor temperature
Display in either Celsius or Fahrenheit
Frost-free warning
Backlit screen with adjustable intensity
Accurate ambient temperature control of 0.18 degree Fahrenheit
Temperature range from 41 to 86 degrees Fahrenheit
Designed for use with convection heaters. NOT for use with forced-air units
Resistive electric heater thermostat
Product Specification
Manufacturers Parts Number
STZW402WB+
Manufacturer Description
The Ki thermostat for the smart home is the first ever Z-Wave line voltage thermostat in North America. Ki thermostats can easily be integrated into the Z-Wave network of your home, allowing you to adjust the temperature in rooms of your home from a distance. The Z-Wave technology also allows you to activate scenes, setting in motion several actions such as adjusting the temperature and lighting, activation of safety and entertainment systems and more.
Stelpro STZW402WB+ Reviews