General Protecht LUXDM600-12-3-W 600W 3-Way Paddle Dimmer, White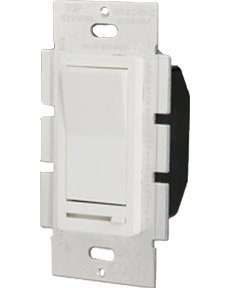 All Clearance Sales Are Final!
Item Number
GP-LUXDM6001203W
Shipping
Usually Ships 1 to 2 Business Days
Comparable Dimmer Products
General Protecht LUXDM600-12-3-W Description
This Decorative Paddle Dimmer in White is ideal for energy consumption reduction in any home or industrial application. The Rocker Switch makes turning the device on and off very easy, while the Horizontal Slide Dimmer control allows for great ambiance in any room. UL listed and made of Heavy Duty GELEXAN24, this style of dimmer is available in multiple colors. Included.
Product Specification
Manufacturers Parts Number
LUXDM600-12-3-W
Manufacturer Description
3-Way Rocker Switch with Horizontal Dimmer
Colors also available: Almond, Ivory, White, Gray, or Black,
Available as single pole or 3-Way
Allows great ambiance in the room
Dimensions: H=104.8 mm (bracket) and W=44 mm (mounting bracket)
Use copper wires only to install this switch
Energy consumption is reduced and dimmer is very gentle on bulbs
Made of Heavy-duty, hard durable plastic and stainless steel mounting bracket
120 Volts, 600 Watt, 60 Hz
UL Listed
General Protecht LUXDM600-12-3-W Reviews