BrightStar CB60W-E2660K 60W LED Corn Bulb, 7700 Lumens, 6000K, 450W Equivalent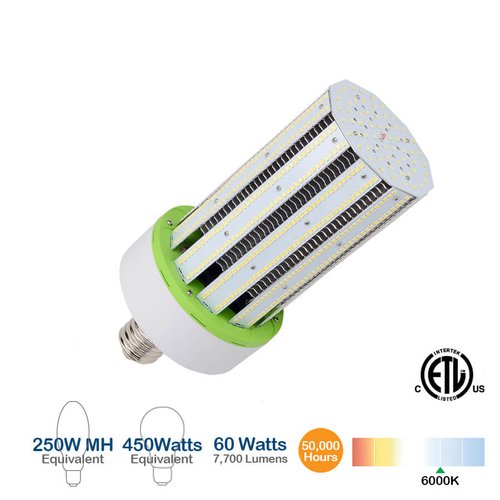 For bright lights with up to 60% energy savings, shop HomElectrical's selection of BrightStar LED corn lamps today! Their design is perfect for parking lot lighting, exterior building lighting, and walkway lighting.
Item Number
BSL-LCB60WE2660K
Shipping
Usually Ships Business Days
Comparable LED Corn Bulb Products
BrightStar CB60W-E2660K Description
BrightStar 60W LED Corn Bulb, 7700 Lumens, 6000K, 450W Equivalent Features:
Direct replacement for the typical 450W incandescent bulb
Easily retrofitted into current fixtures, both indoor and outdoor
An E26 base that fits most standard lamp bases for simple conversion from fluorescent and halogen bulbs
6000K color temperature that provides a cool daylight color
360° beam angle fills your space with light in all directions
InstantOn technology – allows immediate lighting without wasted energy
Operating temperature of -40°F to 131°F
50,000 lifetime hours guarantees you over a decade of use operating 12 hours a day, 7 days a week
Dimensions: 9''(L) x 4''(W) x 4''(H)
Medium sized space lighting
Walkways
Exterior building lighting
Parking lot or area lighting – including metal halide fixtures, glass jar fixtures, and acorn lamps
Retrofit high bays and other metal halide fixtures in workspaces and warehouses
Gymnasium Lighting
Public Area Lighting
Product Specification
Manufacturers Parts Number
CB60W-E2660K
Maximum Voltage
100V-300V
Wattage Equivalent
250W MH, 450W
Manufacturer Description
Features
Save over 60% in Energy
High Lumen Maintenance
Directional Light
Thermal pad heat transferring
10 Sides Shine Out
IP60 Ingress Protection
Long Life Span
Internal double stage power supply
Dimensions: 9-3/4" x 4-1/4" x 2"
Indoor and Outdoor Applications
Street Lighting
Warehouse Lighting
Gymnasium Lighting
Public Area Lighting
Post Top Lighting
BrightStar CB60W-E2660K Reviews