Lamp Shining 200W UFO LED High Bay Light, Dimmable, 150 lm/W, 4000K
Lamp Shining LED LSUFO-200WD(4000K)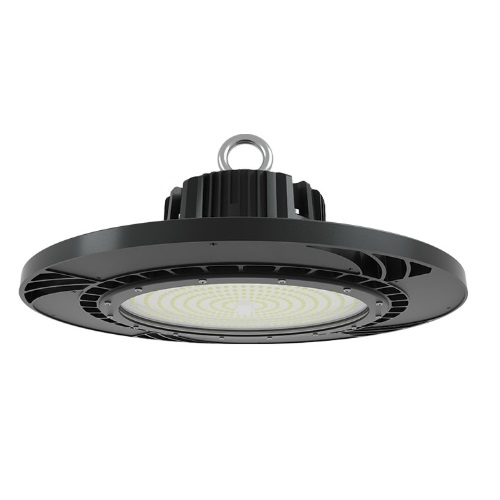 Lamp Shining LED's water-resistant LED High Bay lights are excellent replacements for inefficient fluorescent bays that waste energy in warehouses, retail ceilings, as well as outdoor settings such as bus station lighting.
In stock
Usually Ships 3 to 7 Business Days
Comparable UFO Low / High Bay Light Products
Lamp Shining LED LSUFO-200WD(4000K) Description
Lamp Shining LED 200W UFO LED High Bay Light, Dimmable, 150 lm/W, 4000K Features:
Anodized Aluminum material, Black color finish
Integrated dimming with PWM and resistance or the 0-10V standard
Instant heat technology
100V-277V voltage, 200W wattage
4000K color temperature, providing cool white lighting perfect for outdoor, office, task-oriented lighting spaces
30000 lumens, 150 lm/W efficacy
High Voltage 347V-480V available
Low brightness degradation, over 90% power supply efficiency
600W HID wattage equivalent
No UV and near-IR radiation in light beam
20% heavier heat sink, for improved heat dissipation
90'/120' beam angle with PC Lens IK10 option, 120' beam angle with tempered glass IK08
Compatible Zigbee wireless controls, microwave motion sensor and daylight sensor
Tempered glass, PC reflector, aluminum reflector, yoke bracket, milky cover options available
DLC Premium, RoHS Compliant, ETL Listed, and water resistant
5 year warranty
Dimensions: 14.17in(L) x 14.17in(W) x 5.39in(H)
**Limited warranty is set for five years from the date of invoice, please read Lamp Shining LED's warranty policy for more details**
Product Specification
Manufacturers Parts Number
LSUFO-200WD(4000K)
Maximum Voltage
100V-277V
Wattage Equivalent
600W MH
Manufacturer Description
"Hurricane" UFO LED High Bay 60W to 240W Series can replace existing 150w to 1000w metal halide lamps in warehouses, factories, stadiums or any large open areas. LED High Bay UFO is a perfect replacement for 150W to 175W metal halides installed at a height of 20-30 feet. The 60W LED High Bay UFO generates a total of 8,400 lumens and luminous efficiency of 130-160 Lm / W. It can be used where you only need more light and can easily replace 150W metal halide or high pressure sodium lamp 150W. All of these LED UFO risers can be rinsed with water because they are IP65 rated so they can be used indoors and outdoors.
Lamp Shining LED LSUFO-200WD(4000K) Reviews