Campbell Yellow Chromated Load Binder Manual Ratchet
Campbell 6207506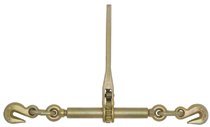 Comparable Grab Hooks & Shackles Products
Campbell 6207506 Description
The binder manual ratchet is the ideal tool to clamp, bind, anchor and tie down large loads. It is designed with big handles and carbon steel construction for maximum leverage, greater strength and easy handling.
Chain Size: 5/16 in, 3/8 in
Chain Size/Grade: Grade 70
Lifting Height/Take-Up: 8.00 in
Working Load Limit: 6600 lb
Operating Type: Manual-Ratchet
Height: 3 in
Length: 15 in
Width: 24 in
Finish: Yellow Chromated
Product Specification
Manufacturers Parts Number
6207506
Manufacturer Description
Load BinderManual Ratchet 5/16" to 3/8 "
Finish: Yellow Chromated
Height: 3 in
Length: 15 in
Width: 24 in
Weight: 11 lb
Campbell 6207506 Reviews