on 07/09/2018

The main goal of tennis court lighting is to offer an evenly distributed amount of light that is not only bright, but has minimal glare. Depending on the type of tennis court you're trying to light (indoor or outdoor), there are several things to take into consideration:
What are Foot Candles?
Choosing a light fixture has become more than just finding matching wattages. Nowadays, if you want to replace a 60W fluorescent with a 60W LED bulb, you would end up with a lighter bulb than you anticipated. This is because light intensity is measured in lumens, not wattage. Many lighting specialists refer to foot candles when measuring the amount of light they need for a space. A foot candle is equivalent to one lumen per square foot.
What is Lux?
Lux is used to measure light intensity and is commonly referred to as illuminance or illumination. One lux is equivalent to one lumen spread over one square meter.
What's the difference between lux and lumens?
Lumen is the brightness of a light, or the total amount of light produced, while lux measures light intensity. The amount of lux will tell you how many lumens you need to illuminate a given area of space.
For example:
1,000 lumens concentrated in one square meter will have an illuminance level of 1000 lux. However, the same 1,000 lumens spread out over ten square meters of area will produce an illuminance level of only 100 lux.
Is there a difference between Foot Candles and Lux?
Yes and no. There is no difference between a foot candle and lux regarding what they measure. The difference between them is similar to the difference between a foot and a meter, or Fahrenheit and Celsius. The difference is that these terms are used in different regions of the world. While lux is a unit of measure common in European standards, foot candles are used in the US.
One-foot candle = 10.764 lux
One lux = 0.09-foot candle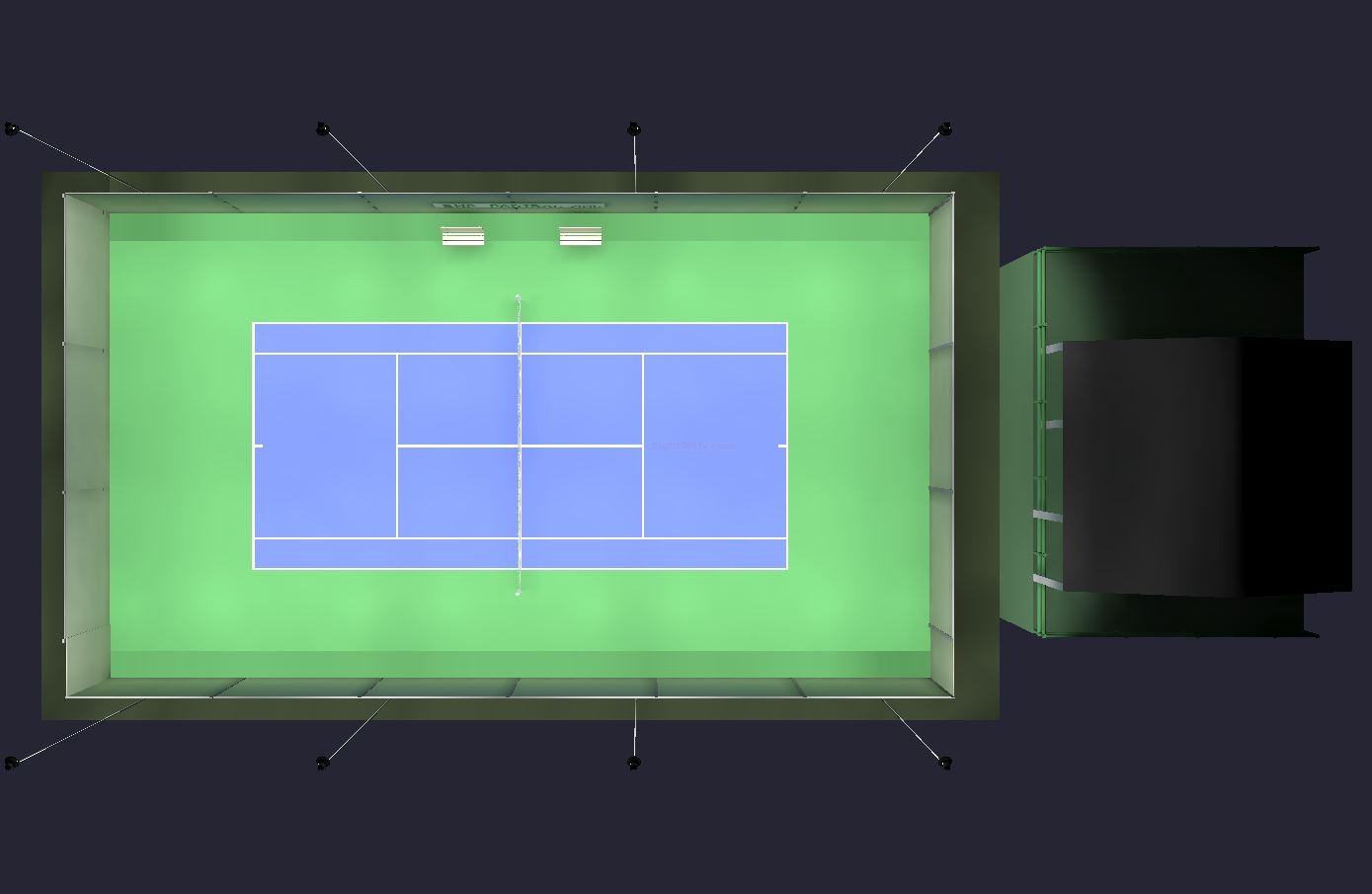 Lighting Specifications for Indoor

Tennis Courts (ITF)

 

Horizontal Lighting

Uniformity of Lighting

Glare

Color Temperature

CRI

(lux)

 

GR

(K)

 

Class I

750+

0.7+

< 50

4000+

80+

Class II

500+

0.7+

< 50

4000+

65+

Class III

300+

0.5+

< 55

2000+

20+
Lighting Specifications for Outdoor

Tennis Courts (ITF)

 

Horizontal lighting

Uniformity of lighting

Glare

Color Temperature

CRI

(lux)

 

GR

(K)

 

Class I

500+

0.7+

< 50

4000+

80+

Class II

300+

0.7+

< 50

4000+

65+

Class III

200+

0.6+

< 55

2000+

20+
Recommended Horizontal Illumination

for Outdoor Facilities (ITF)

Performance criteria

Class I

Class II

Class III

Class IV

Average Maintained horizontal Foot-candles within PPA

125+

(1250 lux)

75+

(750 lux)

50+

(750 lux)

30+

(300 lux)

Minimum Maintained Horizontal Foot-candles within PPA

100+

(1000 lux)

60+

(600 lux)

40+

(400 lux)

20+

(200 lux)

Maximum Uniformity Ratio

1.5

1.7

2.0

2.0
What is Horizontal Lighting?
Horizontal lighting refers to the amount of light that falls on the court surface. Often referred to as the lighting level, it is measured in foot-candles or lux.
What is Uniformity of Lighting (Illuminance)?
Uniformity of lighting measures how evenly the light distributes over the court surface.
What is a Uniformity Ratio?
Uniformity ratio is the ratio of the max number of foot-candles divided by the minimum number of foot-candles required on the court's surface. This basically measures the darkest areas of the court to the lighting areas of the court. A well-lit tennis court should have a uniformity ratio between 1.5 and 2.0.
How the light is distributed across the court is the most important factor in a great lighting design. Even with a great uniformity ratio, if the light fixtures are placed in front of the baseline, the ball could get lost in the dark shadows which can be quite tiring for players to follow.
Stay Connected
Got a large lighting project? Let us help you find the perfect lighting design for your tennis court!
Did you find this blog helpful? Let us know in the comment section below!
For blog updates, free giveaways, cool videos, funny memes, and more, follow us on Twitter and like us on Facebook!
You also enjoy reading: