Stelpro Smart Electronic Thermostat for Under Floor Heating Cable
Stelpro STCPW5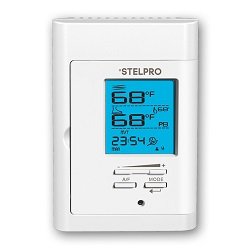 Comparable Digital Thermostat Products
Stelpro STCPW5 Description
STELPRO STCPW5 Heating Cable Smart Electronic Thermostat features:
For under-floor heating
Features advanced floor or ambient temperature control at your discretion, protection against power failures (two hours), and lock option at a maximum temperature set point
Anticipated start as the thermostat reaches desired temperature at requested hour
Temperature range between 37 and 95°. Accuracy within .27°
Display in either Fahrenheit or Celsius
The thermostat has a backlight feature that activates when any pressure is applied
Molded-plastic finish with built-in GFCI and pilot light, four wires/DPST with bipolar tripping, and floor sensor
Wattage and voltage ranges: 0 to 1920W at 120 V; 0 to 3330W at 208 V; 0 to 3840 W at 240 V
3-year warranty included.
White Finish
Also available in silver or almond. Contact customer service for more information.
Product Specification
Manufacturers Parts Number
STCPW5
Manufacturer Description
This thermostat, specifically designed for heated floor systems, allows the reading of the floor or ambient temperature. A booklet is provided containing more than 250 preprogrammings that can be set by simply pressing the front buttons. The STCP is like a small computer designed to provide maximum comfort.
Stelpro STCPW5 Reviews