Best Welds Shade 12 Gold Hardened Glass Filter Plates
Best Welds FS-2H-12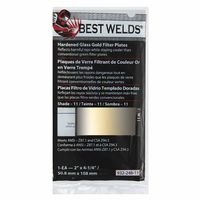 This protective glass welding panel has a gold tint, and is designed with the utmost safety in mind. Shop with Homelectrical for more welding accessories and tools today.
This item is not returnable
In stock
Usually Ships 1 to 2 Business Days
Comparable Lens Cleaner Products
Best Welds FS-2H-12 Description
Gold filter plates reflect harmful infrared rays while staying cooler than a conventional green filter plate. They are precision ground and edged to allow a safe and proper fit and are precisely shaded and optically correct.
Color: Gold
Material: Hardened Glass
Shade/Contrast: 12
Product Specification
Manufacturers Parts Number
FS-2H-12
Manufacturer Description
ANCHOR FS-2H-12 2X4 GOLDFILTER PLATE
Filter plates reflect harmful infrared rays while staying cooler than a conventional green filter plate
Color: Gold
Material: Hardened Glass
Weight: 0.10 lb
Best Welds FS-2H-12 Reviews