on 08/25/2020
Despite Coronavirus, some college campuses forge ahead with move-in day and in-class instruction. Whether you're eagerly packing for college or watching your child pack, this list outlines college essentials for this unprecedented time.
Reading lamp

A desk light provides a discreet and respectful light if you share a room or live by yourself. HomElectrical offers desk lamps, task lighting and work lamps for your needs.

Power strip

All dorms come equipped with power outlets, but the accessibility and number of them vary. Because Covid-19 may cause many students to stay inside their rooms, a power strip gives all your devices and chargers a convenient home.

First aid kit

Be better safe than sorry in the case of a very unfortunate paper cut! With university healthcare facilities likely preparing for Coronavirus-related issues, owning a comprehensive kit helps prevent smaller injuries from becoming bigger ones.

Cleaning and disinfecting supplies

Covid-19 prevention includes these necessary items. Clean and disinfect frequently used surfaces, like doorknobs and cellphones, to remove and kill most germs and bacteria.
Disinfecting wipes or spray
Sweeper-mop
Paper Towels
All-purpose cleaner
Vacuum
Air freshener
Paper towels
Tissues
No-touch trash can
Covid-specific supplies
If your university keeps you on the move, these items ensure you stay up to date with safety regulations and keep you and your peers safe.
Hand sanitizer with at least 60% alcohol
Face covering/mask with at least two layers of tightly woven fabric
Note: It's important to properly clean your cloth face mask
Personal responsibility
Even though you can't pack these in a suitcase, these actions protect yourself and others around you
Hand hygience
Wash your hands with soap and water for at least 20 seconds.
If hand washing is not possible, use hand sanitizer
Respiratory etiquette
Cough and sneeze into a tissue or inside your elbow then wash your hands after
Limiting transmission in higher education
With no vaccine in sight, the question of how to reopen college campuses safely without an outbreak remains. Our individual actions help prevent Coronavirus but a recent study published in JAMA Network Open highly recommends colleges and universities provide frequent Covid testing for their students.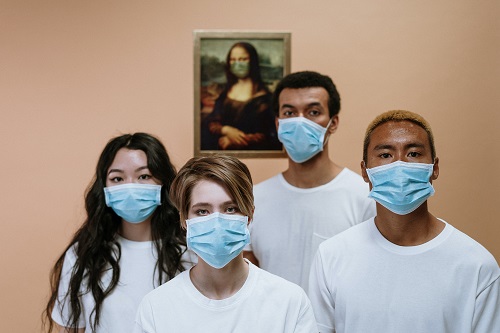 In their study, it found that frequent testing of students every 1-7 days, in addition to strict adherence to Covid-19 prevention practices, like handwashing and disinfecting frequently touched surfaces, would prevent outbreaks on campus. Schools would need to test all students, symptomatic or not, and offer rapid testing results.
If your college or university plans to reopen this fall, look for your campus' preparation guidelines and regulations. The CDC back to school guidelines offer universities ways to encourage covid-19 prevention practices throughout campus. These guidelines change based on the location, demographics, size and academic structure of the college.
Because Covid-19 mostly spreads by respiratory droplets, controlling our personal and environmental responsibilities can reduce transmission. Handwashing, staying home when sick, wearing masks, cleaning, and disinfecting help protect yourself and others.
The University System of Georgia
The University System of Georgia (USG) plans for face to face instruction this fall but with social distancing protocols and mask requirements to reduce transmission. USG oversees 26 institutions and has asked each one to create individual plans for reopening. For all institutions, USG requires students, staff and faculty to wear masks inside campus facilities where six feet of social distancing is not possible. They also state faculty, staff and students could face discipline if repeated refusal to comply persists.
Check out more of HomElectrical's Coronavirus blogs below: