on 05/14/2020
The CDC recommends that everyone wear a cloth face mask in public to slow the spread of COVID-19. By making your own mask, you are helping reserve surgical masks and respirators to those on the front lines. Here are two methods for making your own mask, as well as tips on how to chose your fabric.
Anatomy of a cloth face mask:
Face masks are made of two parts: the face covering and the ties or ear loops. The face covering is the part that goes over the face and is made up of one or more layers of fabric. The mask will either have ties or ear loops to secure it to the face. Additionally, they may have a coffee filter or paper towel inserted between layers for extra protection.
Choosing a fabric:
To make a homemade cloth mask, any type of fabric will work. Cotton quilting fabric has been tested and proven to block particles the most, although any fabric will do. An old t-shirt may be your most accessible source of fabric. To test the quality of your fabric, hold it up to the light. The less light that shines through, the more protective your mask will be. Make sure that you do not add too many layers and that you are still able to breathe through your mask.
Filters:
If you want to use a filter, paper towels and coffee filters are good options. Try to avoid using air filters and vacuum bags. While they both work well, air filters can release dangerous fibers, and vacuum bags may contain fiberglass.
Making the mask:
There are many patterns and styles available for making your own homemade fabric masks. The following tutorials come from the CDC website.
Sewing a face mask:
Materials:
Two 10"x6" rectangles of cotton fabric
Two 6" pieces of elastic (or rubber bands, string, cloth strips, or hair ties)
Needle and thread (or bobby pin)
Scissors
Sewing machine
Cut out two 10-by-6-inch rectangles of cotton fabric. Use tightly woven cotton, such as quilting fabric or cotton sheets. T-shirt fabric will work in a pinch. Stack the two rectangles; you will sew the mask as if it was a single piece of fabric.
Fold over the long sides ¼ inch and hem. Then fold the double layer of fabric over ½ inch along the short sides and stitch down.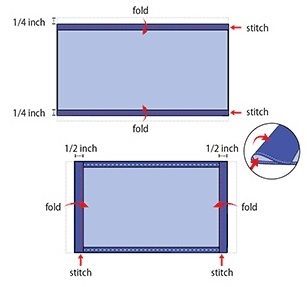 Run a 6-inch length of 1/8-inch wide elastic through the wider hem on each side of the mask. These will be the ear loops. Use a large needle or a bobby pin to thread it through. Tie the ends tight. Don't have elastic? Use hair ties or elastic head bands. If you only have string, you can make the ties longer and tie the mask behind your head.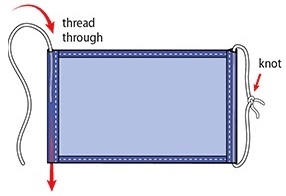 Gently pull on the elastic so that the knots are tucked inside the hem. Gather the sides of the mask on the elastic and adjust so the mask fits your face. Then securely stitch the elastic in place to keep it from slipping.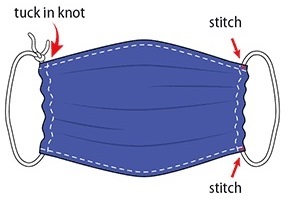 No-sew t-shirt method:
Materials:
Starting at the bottom of your t-shirt, cut out a section of fabric that is as long as the front of your t-shirt and 7-8 in wide.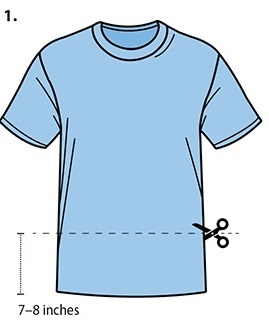 To make the strings, fold your fabric in half and cut out a 6-7 in wide square starting from the edges.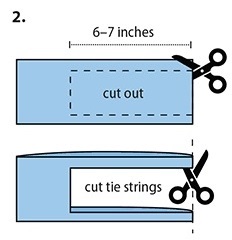 Now your mask is ready to wear! Tie the strings around your neck and over the top of your head.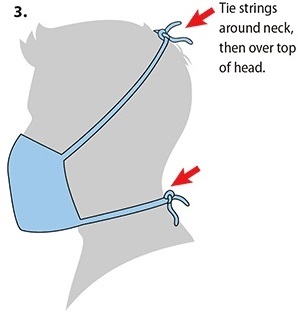 If you cannot create your own cloth face mask, HomElectrical offers a selection of comfortable cloth face masks for purchase at competitive retail prices!