3M N95 Particulate Non-Oil Cool Flow Respirator Mask
3M 8511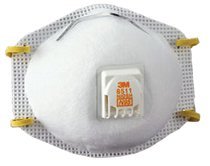 NIOSH-Approved N95 3M Respirator Mask with NIOSH-APPROVED N95 3M™ COOL FLOW™ VALVE helps reduce heat build-up inside respirator ADVANCED FILTER MEDIA for easier breathing. The COOL FLOW Valve reduces heat build-up inside the face mask
This item is not returnable
In stock
Usually Ships 1 to 2 Business Days
Comparable Respirator Face Mask Products
3M 8511 Description
3M N95 Particulate Cool Flow Respirator, Maintenance Free features:
Adjustable M-noseclip reduces eyewear fogging and helps ensure a better fit and seal
Patented filter media with advanced electrostatically charged microfibers help make breathing easier
Enhanced user comfort with cooler breathing filter
Two-strap design with single point attachment for a secure fit
Used for bagging, grinding, sanding, sweeping, and other dusty situations
Disposable respirator
95% Efficiency to certain non-oil based particles
Protects half of face including mouth and nose with a half face piece
Specification
Assigned Protection Factor: 10
NIOSH Filter Approval Rating: N95
Gas and Vapor Protection type: Particulate
Ideal for Agricultural, Commercial Buildings, Construction, Design & Construction, Food Processing, Food Safety, General Manufacturing, Heavy Infrastructure, Industrial Maintenance, Mining, Oil & Gas, Transportation
Shelf Life: 5 Years
Cool Flow valve respirators ideal for long periods of wear, especially where conditions are hot, humid or physically demanding
Coronavirus questions and resource center:
Product Specification
Manufacturers Parts Number
8511
Manufacturer Description
Innovative technology provides excellent product life and cut rates to increase productivity and throughput while lowering total abrasive costs. Specially formulated to be used on stainless and mild steel. This Cut-Off Wheel contains ceramic grain for fast cut and long life.
3M 8511 Reviews