Campbell Load Binder Manual Ratchet 5/16"-3/8"
Campbell 6207504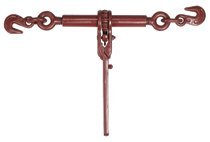 Comparable Tie Down Straps Products
Campbell 6207504 Description
The load binder ratchet is used for tightening chain in cargo securement. It features a ratchet type for easier adjustment of tension and a greater range of take-up. Load ratchet has a capacity of lifting up to 5400 pounds at a time.
Chain Size: 5/16 in, 3/8 in
Lifting Height/Take-Up: 8.00 in
Working Load Limit: 5400 lb
Operating Type: Manual-Ratchet
Product Specification
Manufacturers Parts Number
6207504
Manufacturer Description
Load Binder Ratchet 5/16"-3/8"
For tightening chain in cargo securement. Ratchet type for easier adjustment of tension and a greater range of take-up
Weight: 9 1/2 lb
Campbell 6207504 Reviews