BrightStar 1400 Lumens 54W Emergency Backup Ballast for T5 & T8-T12
BrightStar 82197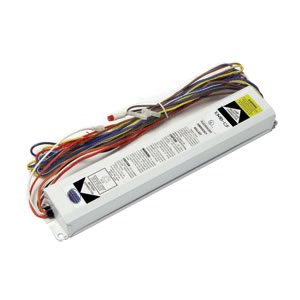 This emergency backup ballast can keep you going, even when the power has gone out. Shop with Homelectrical today for more LED lighting emergency solutions.
Shipping
Usually Ships 1 to 2 Business Days
Comparable LED Linear Fixture Accessories Products
BrightStar 82197 Description
BrightStar Emergency Backup Ballast, 1400 Lumens 2 LAMP 54W T5, T8-T12 HO/VHO Features:
Can power up to two lamps at a maximum lumen output of 1400 lumens.
Dual 120V/277V Voltage.
Provides emergency power for at least 90 minutes.
Steel construction with outer white paint provides protection against damage.
UL Listed for Factory or Field installation.
Dimensions: 13.4"(L) x 2.4"(W) x 1.6"(Depth)
Product Specification
Manufacturers Parts Number
82197
Maximum Voltage
100V-277V
Manufacturer Description
Illumination
Works with or without an AC ballast to convert new or existing fluorescent fixtures in to unobtrusive emergency lighting.
Operates one or two lamps in the emergency mode for a minimum of 90 minutes.
Provides a maximum initial lumen output of 1400 lumens.
Electrical
Dual 120/277 voltage.
Charge rate/power "ON" LED indicator light and push-to-test switch for mandated code compliance testing.
6V long-life, maintenance-free, rechargeable
Sealed NiCd battery.
Internal solid-state transfer switch automatically connects the internal battery to fluorescent lamp(s) for minimum 90-minute emergency illumination.
Fully automatic solid-state, two-rate charger initiates battery charging to recharge a discharged battery in 24 hours.
AC output ensures compatibility with newer lamp technologies and helps prolong lamp life.
Time delay enhancement to overcome end-of-life circuit protection.
Housing
Durable painted steel construction in white finish.
Compact design fits most fluorescent fixtures.
Lamp Compatibility
Compatible with most one-, two-, three-, and four-lamp electronic standard and dimming AC ballasts.
Operates two 8W-28W T5, one 8W-54W T5/T5HO, two 17W-40W, one 17W-215W T8 through T12, two 13W-39W, one 13W-42W 4-pin compact, two 18W-36W or one 18W-50W 4-pin long compact fluorescent lamps.
Mounting
Suitable for installation inside, on top or in remote of the fixture.
Can be used in both switched and unswitched fixtures.
UL listed for factory or field installation.