Wago Dark Gray 8-Port Pushwire Connectors
Wago 773-168/K194-4045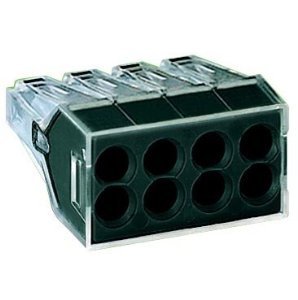 This pushwire connector allows you to connect two wires together in a way that minimizes contact with the live ends of the wires. Shop for more useful electrical tools from Homelectrical today.
Number of Port
Free Shipping (Eligible For Most Orders Over $75)
In stock
Usually Ships 1 to 2 Business Days
Comparable Push-In/Lever Connector Products
Wago 773-168/K194-4045 Description
The quality Dark Grey 8-Port Pushwire Connectors are specially designed for use with junction boxes. With these efficient Pushwire Connectors, users can splice up to eight conductors in the same connector. Their convenient transparent housing allows you to easily check to make sure that the stripped conductor is completely inserted into the connector. These easy-to-use connectors save up to 50% in wiring time when compared to the time needed to use twist-type connectors.
Conductors: 8
Voltage AC: 600V
Amperage: 20A
Cover Color: Dark Grey
Solid Conductor: 18 ... 12 AWG (reusable)
Stranded conductor: 16 ... 12 AWG
Top-coated / Pre-bonded / Overcoated / Double-tineed: 22 ... 16 AWG
Housing Color: Transparent
For Use With: Junction Boxes
Type: 8-Port Push-In Connector
Type of Wiring: Side-entry Wiring
Max. Operating Temperature: 221°F
Conductor Type: Solid/Stranded Copper Conductors
Product Specification
Manufacturers Parts Number
773-168/K194-4045
Manufacturer Description
In addition to its 273 Series junction box PUSH WIRE® connectors for solid conductors, which have proven themselves billions of times over, WAGO now offers a new generation of products with its 773 Series for solid conductors with cross-sections up to 4 mm². The WAGO 273 Series PUSH WIRE® connector for junction boxes, with up to 8 clamping points for solid conductors, is the best selling connector in the world and has proven itself a billion times over. The classic among PUSH WIRE® connectors – for more than 30 years running. Reliability and safety made it the Number 1 by far!WAGO's 773 Series PUSH WIRE® connectors for junction boxes now provide an immediate solution for use with solid conductors with cross-sections up 4 mm². This new series, with its compact design, uses 30 % less space than the 273 Series. The transparent housing also enables the electrician or installer to see at a glance whether all the conductors have been fully inserted and properly connected.
Wago 773-168/K194-4045 Reviews