Wago Luminaire Quick Disconnect, 2-Port Lumi-Nut Pushwire Connector, 2500PK
Wago 873-902 2500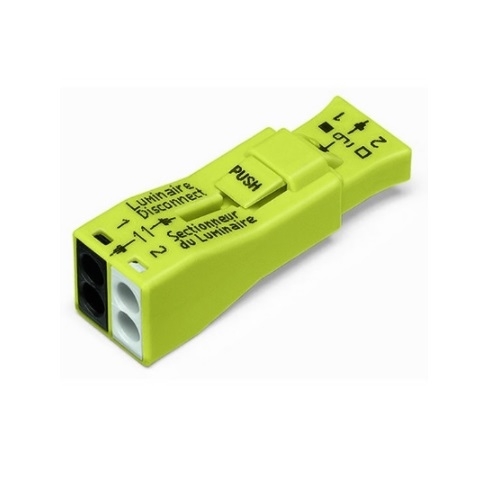 Wago's 2-port pushwire connector allows you to connect two wires together in a way that minimizes contact with the live ends of the wires. Shop for more useful electrical tools from Homelectrical today.
sold by
case of 2500
for only
$1,200.00
Pack Size

2500 x Each

sku

WAG-8739022500
In stock
Usually Ships 1 to 2 Business Days
Comparable Push-In/Lever Connector Products
Wago 873-902 2500 Description
The Luminaire nut features a molded in color coding. The integrated lock latch creates an automatic lock when the connectors meet and has a simple push down for disengaging the lock. Luminaire connectors are made with copper for electrical integrity and are UL94V-0 rated housing for the greatest in flame resistance. Luminaire disconnect push in connectors are designed for non-residential wiring of luminaires with ballasts. The nuts are compliant with NEC 410.73 (G) and CEC 30-308 (4) codes which requires an electrical disconnect for safe servicing of fixtures and ballasts without any exposure to electrical shock.
Number of connections: 6
Number of potentials: 2
Ratings per EN 60998
Nominal voltage: 400V, 4kV rated surge voltage
Rated current: 6A
Connection type: Plug
Connection type (2): Socket
Actuation type: Push-in
Conductor material: Copper
Strip length: 0.43-in to 0.51-in
Strip length (2): 0.35-in to .43-in
Male Connector Line: AWG 18-12 Solid or AWG 16-12 Stranded
Female Connector-Ballast: AWG 18 Solid
Color: Yellow
Approvals and certificates: CCA (EN 61984 and EN 60998), CSA C22.2 No.182.3, UL 2459 (E313353)
Dimensions: 1.654-in (L) x .512-in (W) x .52-in (H)
Product Specification
Manufacturers Parts Number
873-902 2500
Wire Nut Type
Push-In Connector
Manufacturer Description
873 Series Lighting Connectors are available as 2- and 3-pole versions, with preceding, center, 3-pole PE (ground) contact. 2500 Pack
Wago 873-902 2500 Reviews