GP 20 Amp GFCI Receptacle Outlet w/ 2-LED, White
General Protecht DG20-L-WW-B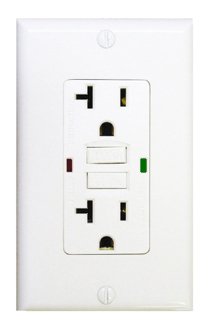 Comparable GFCI Outlet Products
General Protecht DG20-L-WW-B Description
The Class A Rated White 20-Amp GFCI (Ground Fault Circuit Interrupter) duplex outlet provides electrical shock protection and prevents the risk of electrical fire caused by ground fault current. This GFCI has a built in end-of-life feature which automatically alerts the user that the receptacle is no longer effective and needs to be replaced. The GFCI comes with a secondary green LED indicating that the receptacle is active. The 20-Amp GFCI receptacle can be easily installed in a typical wall circuit box for both residential and commercial applications. The duplex GFCI exceeds 2008 UL943 & cUL943 technical requirements. The National Electrical Code (NEC) requires that GFCI receptacles must be installed in all wet & damp environments. Wall Plate is Included.
Product Specification
Manufacturers Parts Number
DG20-L-WW-B
Manufacturer Description
White 20 Amp 125V GFCI duplex receptacle with active green LED light
Automatic end-of-life detection and warn functions, when GFCI is no longer effective, the red LED light will auto-warn user to replace the receptacle
Safe-lock design, assures fixed state while tripped
Wall Plate is Included
Can sustain up to 6000 V &10000 Amp current impulse instantaneously
Prevents Line reversal miss-wire: GFCI cannot be reset and no power to the outlet if wired incorrectly
Provides permanent electro-magnetic motion
Adapted duplex outlet faceplate, load terminal can load common receptacle and other home appliances which also have ground fault protect functions
Overload and anti-jamming abilities
Green grounding screw as grounding connector for easy installation
Made of GE LEXAN 24IR High-impact resistant thermoplastic which is resistant to shock, heat, corruption and moisture
Works reliably in temperatures from -31 to 151 Fahrenheit
Wiring screw provides improved tension disc construction
UL & cUL Listed & Exceeds 2008 UL943 & cUL943 technical requirements
.
General Protecht DG20-L-WW-B Reviews