Klein Deluxe 33ft Splinter Resistant Fish Rod Set, 19 Piece Set
Klein Tools SRS56980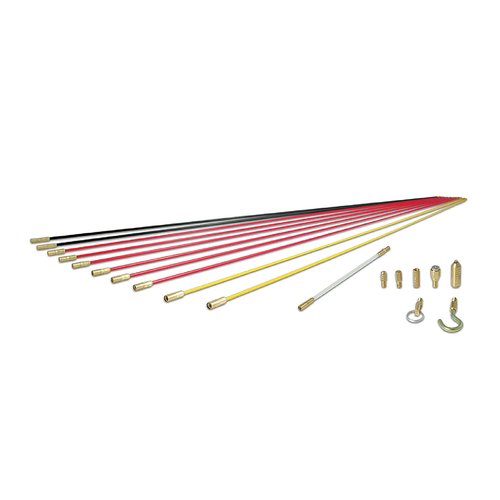 Deluxe Fish Rod Set with thirty-four pieces that are 33 feet long and are meant for wire pulling. These rods are made from nylon and have a splinter resistant full.
In stock
Usually Ships 3 to 7 Business Days
Comparable Fish Tape Products
Klein Tools SRS56980 Description
Klein Tools Deluxe 33ft Splinter Resistant Fish Rod Set, 19 Piece Set Features:
Perfect for routing cables
A total of 33ft rod
4 flexible and 7 innovative attachments
Rods are made from Adoxim 5
Rod material specifically designed to reduce splintering and increased flexibility
Durable brass fitting on the end of each rod
Can carry 550lbs
10 rods:

Two 0.25-inch black 3.33-foot long rods
Six 0.1875-inch red 3.33-foot long rods
Two 0.016-inch yellow 3.33-foot long rods
​
| WARNIN G! Cancer and reproductive harm – See www.P65Warnings.ca.gov for more information.
Product Specification
Application Type
Wire Pulling
Manufacturers Parts Number
SRS56980
Material
Brass, Polypropylene
Manufacturer Description
Great cable pulling kit for typical renovation installations
Splinter resistant rods combine for a total length of 33 ft. (10 m)
Four rod flexibilities and seven innovative attachments
Durable brass fittings on the end of each rod are mechanically crimped to carry a load of 550 lbs. (250 kg)
10 Rods included: two 1/4 inch (6 mm) black 3-1/3 foot (1 m) long rods; six 3/16 inch (5 mm) red 3-1/3 ft. (1 m) rods; two 1/64 inch (4 mm) yellow 3-1/3 foot (1 m) rods
8 Attachments included: Domed Bullet; Flat Bullet; Gender Change Adapter; Strong Magnet; Lighted Tip; Tough Hook; Mini Eye and Ring; and a Flex Lead
1 Durable carrying tube for storing the set
Klein Tools SRS56980 Reviews