Panasonic HVAC 18K Exterios E Wall Mounted Ductless Mini Split System - Heat Pump & Air Conditioner
Panasonic HVAC E18RKUA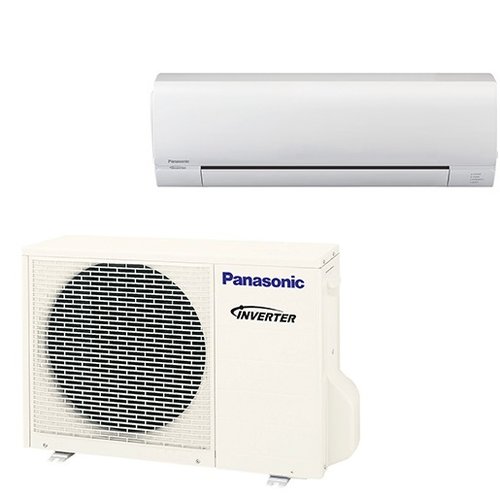 Shop HomElectrical for Wall Mounted Heat Pump Units with an easy ductless installation, high efficiency SEER rating, and a stylish and elegant design.
Heating Capacity

21600 BTU/H

sku

PAN-E18RKUA
Shipping
Ships via Common Carrier
Usually Ships Business Days
Comparable Single-Zone Mini-Split Systems Products
Panasonic HVAC E18RKUA Description
Panasonic 18K BTU, 19.5 SEER, Exterios E, Wall Mounted, Deluxe Series Heat Pump Features:
LCD display allows the user to control the temperature, louvers (sweep), fan speeds, and timers (included)
Optional wired remote control sold separately
ECONAVI sensor detects movement and adjusts louvers for optimal energy saving
Room Freeze Protection to prevent plumbing damage in sub-freezing temperatures
24 Hour timer lets you create a custom schedule for optimal comfort
Automatic on for heat pump operation in temperatures under 46℉
The Dry Mode compressor and fan operation creates a precisely dehumidified environment
Air sweep and dry mode ensure that the entire room is heated or cooled, and excess humidity is removed
Base pan heater in exterior XF models prevents freezing
Low ambient temperature operation
Automatically changes from heating to cooling and vice versa if the temperature is above or below the set temperature
Automatic restart function after power failure
Low Ambient Heating Model: temperatures range from 5℉ to -15℉
Electrical refrigerant control valve is controlled by pulse type electrical controls and is used to obtain optimum operating efficiency
Low fan speed provides extra quiet operation
Optional filter sign provides the opportunity for notification of necessary filter maintenance
Anti-microbial filter prevents growth of mold, mildew, and spores
This anti-rust coasted condenser helps prevent corrosion
Dry Mode compressor and fan operation creates a precisely dehumidified environment
Microprocessor controllers automatically adjust fan speed to High, Medium, or Low to maintain an optimal room temperature
**Requires Refrigerant Line Set (Not Included)**
Application:
This single zone unit allows you to cleanly and quietly heat and cool a large range of rooms in a building. Perfect for light commercial use!
Product Specification
Cooling Capacity
17200 BTU/H
Cooling Power Input
1300 W
Cooling Running Amps
6.3/7.0 A
Fan Speeds
5 Speeds + Auto
Fuse/circuit Breaker Capacity
20 A
Heating Capacity
21600 BTU/H
Heating Power Input
1750 W
Heating Running Amps
8.3/9.3 A
Highest Decibel Rating
47 DB-A
Indoor Unit Model
CS-E18RKUA
Manufacturers Parts Number
E18RKUA
Max Height Above Outdoor Unit
49.2 Ft
Max Height Below Outdoor Unit
49.2 Ft
Maximum Room Size
1000 Sq Ft
Moisture Removal Pints/h
3
Outdoor Unit Model
CU-E18RKUA
Power Supply
230/208V, 1Ph, 60Hz
Refrigerant Control
Electric Expansion Valve
Refrigerant Pipe Connection Method
Flare
Refrigerant Pipe Length
100 Ft
Manufacturer Description
An energy-efficient home I key to enjoying a comfortable, eco-friendly lifestyle. Panasonic air conditioners/heat pumps are built with the latest advanced technology for maximum energy savings.
Panasonic HVAC E18RKUA Reviews