Campbell 1/8" Steel Solid Braided Rope Cables
Campbell 7000497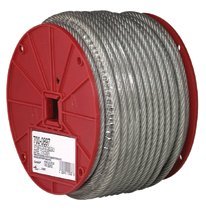 Comparable Ropes & Cords Products
Campbell 7000497 Description
Ideal for resistance to abrasion and weathering, the high strength cable is vinyl coated and zinc finished. Working with a load capacity of 340 pounds this solid braided rope is ideal for lifting, hauling, and towing or conveying force through tension.
Dia.: 1/8 in
No. of Strands: 7
No. of Wires Per Strand: 7
Working Load Limit: 340 lb.
Material: Steel
Coating: Vinyl
Type: Solid Braided Rope
Packing Type: Reel
Product Specification
Manufacturers Parts Number
7000497
Manufacturer Description
1/8"-7X7 COATED
Campbell's Cable is either 7x7 or extra flexible 7x19 construction. High strength cable with a zinc finish. Vinyl coated cable is more resistant to abrasion and weathering
Coating: Vinyl
Dia.: 1/8 in
Material: Steel
Packing Type: Reel
Type: Solid Braided Rope
Weight: 0.04 lb.
Campbell 7000497 Reviews