on 05/23/2018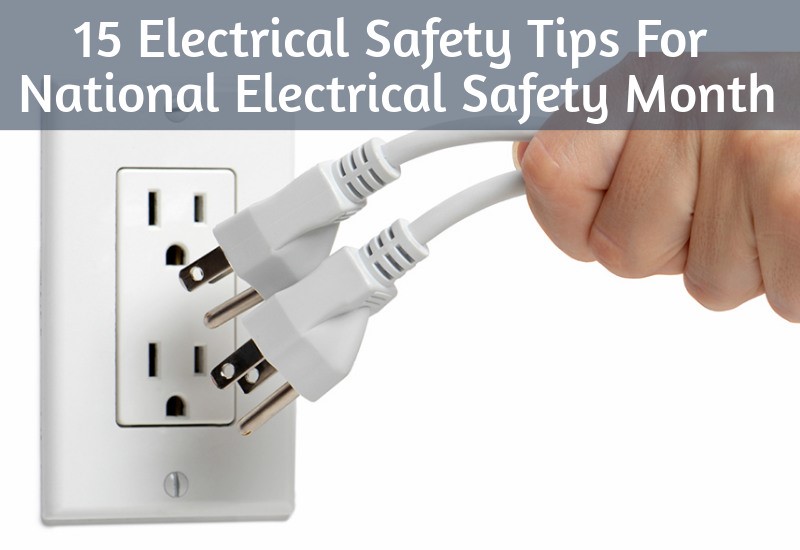 We rely on electricity for literally everything in our lives. If we are not charging our phones, we are plugging in the coffee maker, charging our laptops, or plugging in lights. One important thing that we may not think about is electrical safety.  Since spring is here, and in conjunction with National Electrical Safety Month, we came up with 15 electrical safety tips that will help you avoid potential electrical hazards.
Did you know that…
According to Electrical Safety Foundation International, electrocutions were the majority causes of electrical fatalities, with electrical burns in close seconds.
Check ALL your electrical cords, cables, and extension cords for frays, cracks, and any other signs of damage. Replace ALL cords that have signs of damage!

 

Never overload your circuit breakers outlets or circuit panels.

 

Always connect countertop appliances to GFCI receptacles.

 

Test your smoke detectors to make sure they are working properly.

 

Extension cords are for temporary use ONLY. They should never be used to replace electrical wiring.

 

Never use light bulbs that exceed the recommended wattage for any light fixture

 

Check all power strips and surge protectors and make sure there is zero risk of a circuit overload.

 

Unplug power tools and appliances when they're not in use.

 

Water and electricity have NEVER mixed. Don't start mixing them today!

 

Make sure outdoor patios and pool areas are equipped with ground fault circuit interrupter outlets. 

 

Use power tools with gloves and other personal protective gear.

 

Replace ANY damaged electrical equipment.

 

Make sure to replace the filters in your HVAC system.

 

 

Test your GFCI outlets to make sure they are working properly.

 

Make sure your electrical system is working properly. Contact a licensed electrical contractor if you have flickering lights, malfunctioning outlets, or need wiring upgrades.

 
If you make sure to follow these safety tips, you can eliminate the possibilities of an injury or even worse, death. Together we can prevent the thousands of accidents that happen as a result of electrical fires annually. Join us as we celebrate another month of electrical safety!
Connect with Us!
What types of blogs would you like to read about? Share with us in the comment section below!
And don't forget to like us on Facebook and follow us on Twitter!
Related Blogs: