Green Creative 11W PL V EDGE Series DIRect Ballast LED Bulb, 3000K
Green Creative 11PLVG4/830/DIR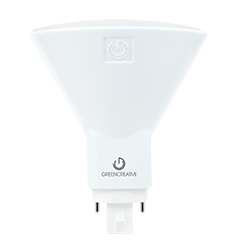 Green Creative PL bulbs are energy star certified, ensuring environmentally friendly operation. The bulbs come in a variety of color temperatures for ideal lighting despite the application. Shop HomElectrical for eco-friendly LED bulbs.
Shipping
Usually Ships Business Days
Comparable LED PL Light Bulb Products
Green Creative 11PLVG4/830/DIR Description
Green Creative11W PL V EDGE Series DIRect Ballast LED Bulb, 3000K features:
Easy to install, Plug and Play direct
Ballast smart power control technology
Fully round design for overall light output improvement
Lasts 4 times longer than CFL
Compatible with most electronic ballasts
Exceptional efficacy 84 LPW
Semi directional lighting provides brilliant light where you want it
40,000 life hours means little to no maintenance over the life of the LED bulb
Product Specification
Manufacturers Parts Number
11PLVG4/830/DIR
Manufacturer Description
This TITANIUM LED SERIES 4.0 PL V lamp has been designed and engineered for demanding commercial applications. This plug and play direct replacement lamp is compatible with electronic programmed start ballasts and requires no rewiring during installation. This lamp features ballast output control technology which allows for high performance on lower powered ballasts. This lamp's innovative round diffuser improves overall light output and aesthetics of the fixture. Simply install in your existing fixture and turn ON the savings.
Green Creative 11PLVG4/830/DIR Reviews