Green Creative 11W PL EDGE Series BYPass LED Bulb, 3500K
Green Creative 11PLHG4/835/BYP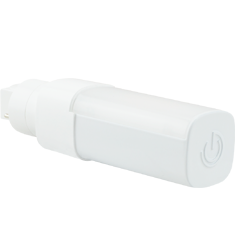 Green Creative PL bulbs are energy star certified, ensuring environmentally friendly operation. The bulbs come in a variety of color temperatures for ideal lighting despite the application. Shop HomElectrical for eco-friendly LED bulbs.
Shipping
Usually Ships Business Days
Comparable LED PL Light Bulb Products
Green Creative 11PLHG4/835/BYP Description
Green Creative11W PL EDGE Series BYPass LED Bulb, 3500K features:
Built-in universal voltage driver, bypass installation
Exceptional efficacy 91 lpw add brightness in any space
Lasts 4 times longer than CFL with the perk of economical LED technology
Compact form to fit most fixtures, ensuring ease of installation
Minimal lifetime issues and maintenance with LED technology
Semi directional lighting for more direct lighting down into any room you install the lights in
Compatible with G24d, GX24d, G24q and GX24q bases
40,000 life hours means little to no maintenance over the life of the LED bulb
Product Specification
Manufacturers Parts Number
11PLHG4/835/BYP
Manufacturer Description
This TITANIUM LED SERIES 4.0 PL H lamp has been designed and engineered for demanding commercial applications. This UL classified lamp requires bypassing the ballast during installation and runs directly off line voltage to eliminate compatibility problems, incidental power loss, lifetime issues, and maintenance costs associated with ballasts. The base of the lamp can be rotated 170° to fit any socket configuration. Simply install in your existing fixture and turn ON the savings.
Green Creative 11PLHG4/835/BYP Reviews