USI 4-in-1 IoPhic Smart Smoke Detector, Fire, Carbon Monoxide & Natural Gas Alarm
USI MDSCN111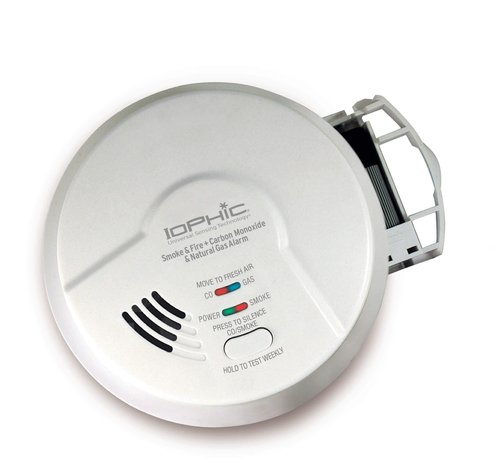 Smoke and carbon monoxide detectors are some of the most important safety features you can have in a building. Shop with Homelectrical through our selection of fire alarms today.
Free Shipping (Eligible For Most Orders Over $75)
This item is expected to ship on 09/14/2020
Comparable Smoke Detector Products
USI MDSCN111 Description
The USI MDSCN111 is a 4-in-1 smart smoke alarm uses a single sensor to detect smoke, fire, carbon monoxide and natural gas and protects against both fast flaming and slow smoldering fires. The microprocessor intelligence provides superior nuisance alarm resistance, along with temperature and humidity compensation, self diagnostics and quick find alarm origination features.
IoPhic Universal Sensing Technology
Can interconnect with up to 23 other devices.
Patent pending microprocessor
Self diagnostics feature
Ambient condition compensation
Quick Find alarm origination feature
Universal mounting bracket
Larger mounting base
Product end of service life warning
Front load battery locking features
7 Year Warranty
This products is a direct replacement for the USI-7759
This alarm can be interconnected with the following compatible models: ESD022W, ESD033W, ESD004W, ESD004, ESD055W, MSD022W, MSD033W, MSD004W, MSD004, MSD055W, MSD001E, 5304, MDSCN111, MICN109, MCN108, MI106, MDS107, MP117, USI-2430, USI-960, MI106S, MIC1509S.
Product Specification
Alarm Sensing Technology
Ionization, Photoelectric
Alarm Sensor Type
Carbon Monoxide (CO), Fire Alarm, Natural Gas, Smoke Alarm
Manufacturers Parts Number
MDSCN111
Power Type
Battery, Hardwired
Manufacturer Description
The USI Electric MDSCN111 4-in-1 Universal Smoke Sensing Smart Alarm provides quadruple the protection with a single installation. This 120-Volt AC alarm protects against (4) deadly household threats: fast-flaming fires, smoldering smoke, carbon monoxide and natural gas (or methane). Perfect for new or replacement installations, the MDSCN111 alarm is suitable for houses, apartments and mobile homes. Universal Smoke Sensing Technology (IoPhic) responds 87-percent faster to slow smoldering fires and responds quickest to fast-flaming fires. Auto sensitivity calibration provides superior nuisance alarm protection and creates consistency in alarm sensitivity. This alarm has additional automatic features including a self-diagnostics check to ensure proper operation, a sensitivity adjustment for changes in temperature or humidity and an end-of-service life warning that sounds when it's time to replace the battery. The 9-Volt alkaline battery (included) continues protection in the event of a power outage. This alarm features a front-loading battery drawer for replacing the battery without removing the alarm from the bracket. Mount the bracket to any standard wiring junction box and use the large mounting base to cover imperfections in drywall. For maximum protection, install an alarm inside every bedroom, outside every sleeping area and on all levels of the dwelling. The USI Electric MDSCN111 4-in-1 Universal Smoke Sensing Smart Alarm comes with a 7-year limited warranty. USI Electric is a subsidiary of Universal Security Instruments Inc., a U.S. based manufacturer of high quality, easy-to-install home safety products. Founded in 1969, Universal Security Instruments has over 40-years of heritage in providing home safety products for families. With state-of-the-art manufacturing facilities, Universal Security Instruments continues to launch revolutionary new products and technologies with the mission of always working to keep families protected.
USI MDSCN111 Reviews