USI Electric Smoke Detector & Fire Alarm w/ Ionization Sensor, Hardwired
USI Electric 5304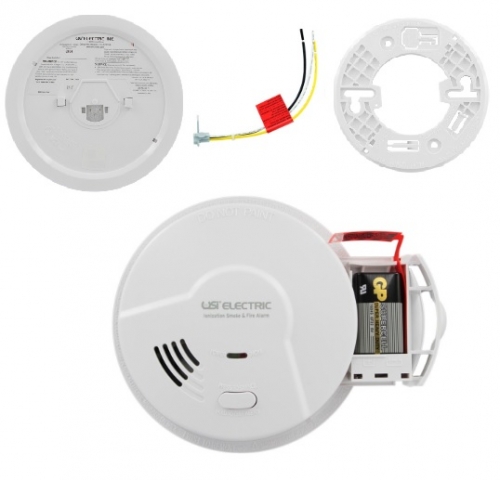 The USI 5304 model is a direct replacement for obsolete models 5204 and SS-2795. This alarm is equipped with a 9V Battery BackUp and can interconnect with all USI and Universal 120V alarms.
Free Shipping (Eligible For Most Orders Over $75)
In stock
Usually Ships 1 to 2 Business Days
Comparable Smoke Detector Products
USI Electric 5304 Description
120 Volt Smoke and Fire alarm is designed to keep an area safe by emitting a loud 85 decibel alarm. The fire detector also features tamper resistant battery locks which prevents unauthorized battery removal. The mounting bracket is designed to fit any standard wiring junction box and allow easy installation.
Hardwiring Required - Battery Back-up Available
Quick Find alarm feature
Universal Mounting Bracket
Interconnected System
Two Tamper Resistant Locking Features
10 Year Limited Warranty
Quick Find Alarm Feature - Quick Find system allows the user to easily identify the first alarm to sound in an interconnected system.
Universal Mounting Bracket - Universal Bracket fits any standard wiring junction box whether single gang, round or octagon, up to 4".
Interconnected System - Fire and smoke detector will connect with all existing 120V USI fire detectors.
Direct Replacement for:
This model of 5304 was manufactured October 20, 2020
Product Specification
Alarm Sensing Technology
Ionization
Alarm Sensor Type
Fire Alarm, Smoke Alarm
Manufacturers Parts Number
5304
Power Type
Battery, Hardwired
Manufacturer Description
The USI Electric 5304 Hardwired Ionization Smoke and Fire Alarm responds quickly to fast-flaming fires to protect your family against deadly threats in the home. Perfect for new or replacement installations, the 120-volt AC hardwired alarm is suitable for houses, apartments and mobile homes. This alarm is fully interconnectable with all USI and Universal 120V alarms using existing wiring and mounting. Quick Find alarm origination identifies the first alarm to sound in an interconnected system and the single silence/test button temporarily quiets nonemergency alarms. The 9-volt alkaline battery (included) provides continuous protection in the event of a power outage. This alarm also features a quick activation pull-tab and a front-loading battery drawer for replacement without removing the alarm from the bracket. Mount the bracket to any standard wiring junction box and use the large mounting base to cover imperfections in drywall. The plastic dust cover protects the alarm from debris and (2) tamper-resistant locks prevent unwanted alarm or battery removal. For maximum protection, install an alarm inside every bedroom, outside every sleeping area and on all levels of the dwelling. The USI Electric 5304 Hardwired Ionization Smoke and Fire Alarm comes with a 10 year limited warranty. USI Electric is a subsidiary of Universal Security Instruments Inc., a U.S. based manufacturer of high quality, easy-to-install home safety products. Founded in 1969, Universal Security Instruments has over 40 years of heritage in providing home safety products for families. With state-of-the-art manufacturing facilities, Universal Security Instruments continues to launch revolutionary new products and technologies with the mission of always working to keep families protected.
USI Electric 5304 Reviews