on 08/16/2017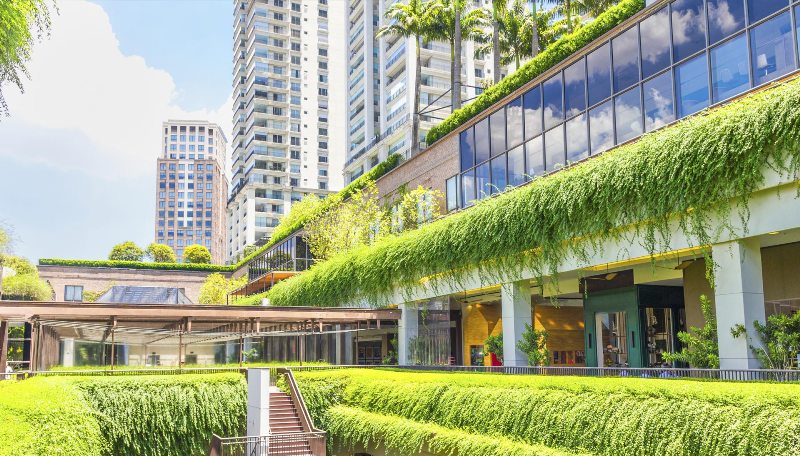 There are many ways to improve the energy efficiency of a building. LEED Certification is a great program to ensure the quality and energy-efficiency of your construction project. Now that you know all there is to know about LEED certification, here are some tips to help you score high on your next project! 
What are Regional Priority credits?
Regional credits were designed by LEED to give incentives for projects that address geographically specific environmental priorities, based on zip codes. Consider it like a bonus point for constructing in an area that has specific environmental needs. 

Did you know that: 
Having a LEED AP on the project is worth 1 point! Learn How to Become LEED Accredited!
What are "Prereq" credits?
These credits are required before any more points in the category are allotted. For example: In order to receive the maximum points allowed in the Indoor Environmental Quality category, the building must pass the minimum indoor air quality performance test. The building must also include an environmental tobacco smoke control system. The maximum number of points a building can receive in this category is 16 points. All of these points are allotted only when the building has scored high in each additional credit below: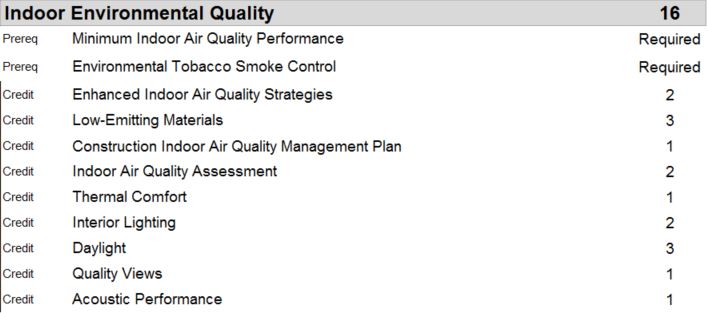 How can I score high in the Water Efficiency category? 
For a building to score high in the water efficiency category, it must have indoor and outdoor water reduction plans in place. The same building must also have a water metering system in place. The total number of points a building can receive in this category is 11 points, considering if they score high in each additional credit below:

How can I score high in the Innovation of Design category?
The maximum number of credits in this category is 6 points. LEED also offers an additional point for construction projects that have a LEED accredited professional (AP) on site. Learn How You Can Get LEED Accredited!
How can I score high in the Energy & Atmosphere category?
Because energy-efficiency is the most important, LEED offers the highest number points in this category. However, before a building can get the maximum 33 points allotted in this category, they must pass four prerequisites:
Fundamental Commissioning and Verification

Minimum Energy Performance

Building-Level Energy Metering

Fundamental Refrigerant Management
Afterwards, it is eligible to receive additional points from the credits below:

How can I score high in the Materials & Resources category?
Before a building project can receive maximum points in this category, it must maintain responsible waste management and sustainable materials & resources. LEED offers a total of 13 points in this category, but first the building must pass two prerequisites:
Storage and Collection of Recyclables

Construction And Demolition Waste Management Planning

How can I score high in the Sustainable Sites category? 
This category offers a total of 10 points, considering the building site scores high in each and every credit category. LEED awards points to buildings that manage their construction activity and prevent pollution.

How can I score high in the Location & Transportation category? 
LEED awards a maximum of 16 points in this credit category. In order to get the total number of points allotted and receive LEED platinum certification, a building must consider the location, and ensure it has access to eco-friendly transportation options.

Want to learn more about LEED Certification? Check out some of our other blogs
Stay Connected!
Have you received LEED Certification for your building project? Silver? Gold? Platinum? 
We would love to share your success. Share some of your LEED projects in the comment section below! For current blog updates, follow us on Twitter and like us on Facebook