on 06/03/2021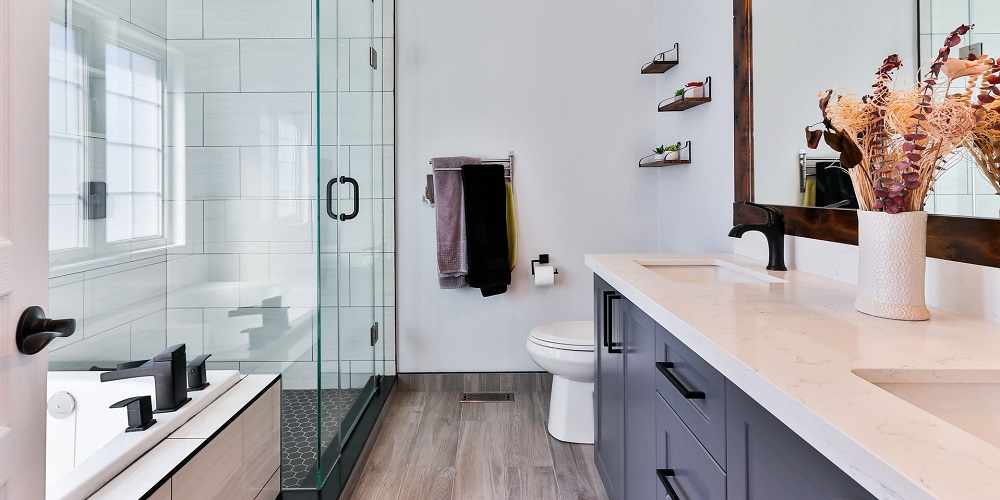 Many areas around the home consume water and energy. But according to the U.S. Environmental Protection Agency (EPA), bathrooms use the most water, accounting for more than 50 percent of indoor water use. When reducing the amount of water used, alongside a few other changes, you can create an eco-friendly bathroom!
Use Less Water
Access to clean, usable water remains a limited resource. By conserving water now, we can ensure access to clean water in the future.
Additionally, conserving water can save energy by reducing the need to treat and transport water to homes and businesses. The EPA states that the energy used each year to treat and deliver water to 10 households could power a refrigerator for two years. They also say that "letting your faucet run for five minutes uses about as much energy as letting a 60-watt light bulb run for 14 hours."
Like mentioned above, bathrooms account for a large part of indoor water use. Make a few changes to limit daily water use:
Take shorter showers - according to the EPA, showering accounts for about 17 percent of residential indoor water use, which can be about 40 gallons per day.
Turn off the tap - avoid letting the water run while washing your hands or brushing your teeth.
Check for leaks - by fixing household leaks, the EPA says you could save nearly 10 percent on your water bill.
Use excess water - while you wait for the water to heat up, catch the excess water and use it for other things, like watering plants or washing your car.
Low flow appliances - low flow fixtures like showerheads, toilets, and faucets use less water than their conventional counterparts. Motion sensor faucets cut down on unused water going down the drain.
EPA's WaterSense logo - items with this logo use less water and must meet strict performance and efficiency criteria to qualify.
Sustainable or Reusable Products
As eco-friendly products become more popular, manufacturers continue to find functional and sustainable alternatives to everyday products. You can find silk floss, shampoo and conditioner bars without plastic, toilet paper made of recycled materials, bamboo toothbrushes, makeup, and even towels that work better for the environment!
Additionally, swap out or replace a plastic or vinyl shower curtain for an eco-friendlier one! Plastic or vinyl shower curtains may contain PVC which releases harmful chemicals and can decrease indoor air quality. Instead, find shower curtains made of other materials, like cotton or linen. Glass shower screens offer easier cleaning, and you can recycle them once you're done with them.
Greener Cleaning Products
Conventional cleaning products often use Volatile Organic Compounds (VOCs). VOCs can increase the risk of adverse health affects in both humans and animals. According to the American Lung Association, some VOCs can "irritate the eyes, nose and throat, and can cause difficulty breathing and nausea" as well as "damage to the central nervous system."
By switching to green or greener cleaning products, you can reduce or eliminate the use of VOCs and clean with less chemicals! Find natural products or look for products with the EPA's Safer Choice label for a greener cleaning option.
With these easy tips, you can make your bathroom an eco-friendly space! Discover some greener cleaning options and products made with recycled materials available at HomElectrical.
Related Blog:
What are Eco-Friendly Cleaning Products?
Green Cleaning Products and Janitorial Supplies
Eco-Friendly Home Tips: Kitchen