Stelpro 864W SFM Standard Fabric Heating Mat 240V, 144 inches X 72 inches
Stelpro SFM2W0864D144072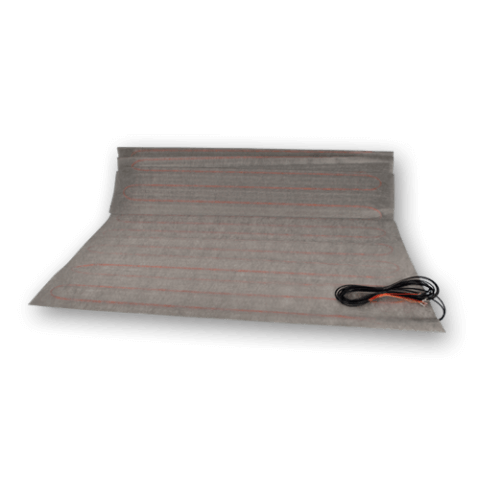 In stock
Usually Ships 14+ Business Days
Comparable Floor Heating Products
Stelpro SFM2W0864D144072 Description
Stelpro 864W SFM Standard Fabric Heating Mat 240V, 144 inches X 72 inches Features:
Fast, simple and secure use
Has a wattage of 12 W/sq. ft. or 9 W/sq.ft. (at 208 V)
Provides complete comfort through ground-up heating technology
Features standard power lead wires with a length of 10 feet (other lengths are available upon request)
Best if installed in: Bathroom, Kitchen, Living Room, Bedroom, Basement, Hallway, Day Care Center, Locker Room, Small Space
Can be installed on both sides and in all directions, for a seamless process
Compatible with all mortar types, including adhesive, polymer-modified (thinset) and self-levelling
Easy installation in most types of flooring, including ceramic, tile, slate, marble, granite, floating floors, laminates, vinyl tiles, and linoleum
Also compatible with installation in concrete slabs or plywood subflooring
Branch Circuit must be used with a circuit breaker that has a current rating maximum of 15 amps
If more than one mat is used, total current must exceed 12 amps, due to circuit breaker or fuse's limitation of a maximum of 15 amps
Provides numerous sizes to choose from
Allergy-friendly due to zero air displacement and no dust or smell
Contains twin-heating cables made from high quality thermoplastic polymers that are wrapped and laminated on both sides with a durable non-woven fabric
Features thin design (less than 1/8 inch thick)
Includes an option of an electronic thermostat for the heating cable
Product Specification
Manufacturers Parts Number
SFM2W0864D144072
Manufacturer Description
Stelpro's new and innovative heating cable mat adds comfort and a touch of luxury to your home. The Persia mat has a host of advantages making it the ideal floor heating system for you: silent, efficient and unobtrusive. It can be installed with most types of floor coverings and a wide range of sizes are available. Furthermore, the electromagnetic fields are almost non-existent with the Persia heating cable mat, meaning it is safe for your crawling toddlers and the rest of your family. Unique to Stelpro, the membrane is made from a durable, non-woven fabric, making it easy to install and at the same time protecting the cable from damage from tools during installation. This makes Persia incomparable to other heating mats on the market.
Stelpro SFM2W0864D144072 Reviews