Ullman 3 [1/4]'' Refill Round Mirror Head Assembly
Ullman S-2HD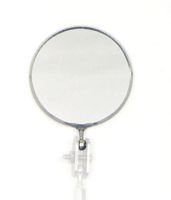 Use this mirror to get better insight into places oyu can't. Perfect for seeing under cars or inside confined spaces. Shop with Homelectrical for more aiding equipment today.
Comparable Inspection Mirror Products
Ullman S-2HD Description
Replaceable clear glass mirrors for perfect reflection and Insulated vinyl grip on all models. Round Mirror head assembly replaces any inspection mirror that is no longer attached. Double ball joint links swivel mirrors for viewing to 360 degrees.
Dia.: 3 1/4 in
Shape: Round
Type: Mirror Head Assembly
Product Specification
Manufacturers Parts Number
S-2HD
Manufacturer Description
3 1/4" Refill Head Assembly
Dia.: 3 1/4 in
Shape: Round
Type: Mirror Head Assembly
Weight: 0.11 lb
Ullman S-2HD Reviews