World Dryer 2300W AirMax Hand Dryer, Push Button, Stainless Steel, Polished Finish
World Dryer DM5-972A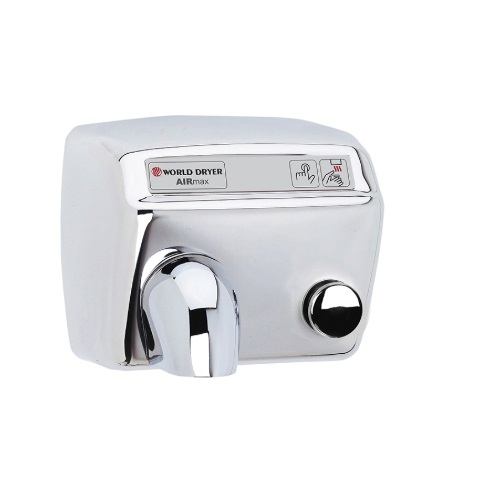 World Dryer's AirMax Series hand dryers have a high speed of up to 15 seconds of dry time and 2X's faster than traditional dryers. Shop our full selection of World Dryer dryer's to find the perfect fit for your business today!
In stock
Usually Ships 1 to 2 Business Days
Comparable Hand Dryer Products
World Dryer DM5-972A Description
World Dryer 2300W AirMax Hand Dryer, Wall Mounted, Stainless Steel, Polished Finish Features:
Optional use of automic or push button
Has the longest life of any high speed dryers
Up to 15 seconds of dry time and two times faster than traditional dryers
Classic style design that is durable and vandal resistant
Surface or recess mounted application
Recessed Mounted: Unit Size (HxWxD) 13.8" x 13.1"x 4" Shipping Size (HxWxD) 15" x 15" x 11.25"
Surface Mounted: Unit Size (HxWxD) 9.5"x 11.3" x 8.3" Shipping Size (HxWxD) 12.5" x 14.4" x 10.1"
Product Specification
Manufacturers Parts Number
DM5-972A
Manufacturer Description
Industry standard for high speed hand dryers. It's suitable for high traffic facilities needing vandal resistant features.
World Dryer DM5-972A Reviews