NaturaLED 180 Watt Bronze LED Shoebox Light with 6'' Extruded Arm Mount, 4000K
NaturaLED LED-FXSB180/3S/40K/DB-EA6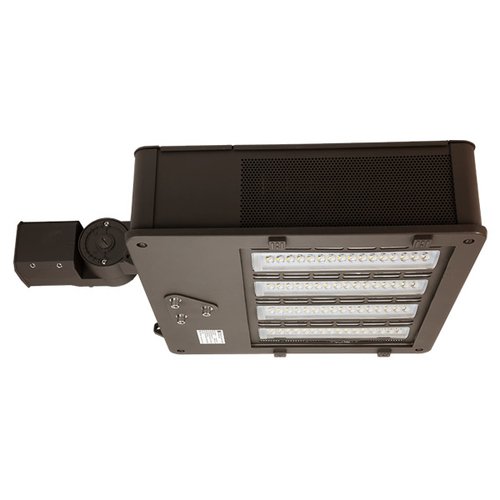 LED Shoebox lights offer a durable, die-cast aluminum lighting fixture ideal for parking lot and street lighting. The LED technology provides a long term lighting life with minimal maintenance. Shop HomElectrical for a large variety of LED lighting.
SKU
NAL-LEDFXSB1803S40KDBEA6
Shipping
Usually Ships 1 to 2 Business Days
Comparable LED Shoebox Fixture Products
NaturaLED LED-FXSB180/3S/40K/DB-EA6 Description
NaturaLED 180 Watt Bronze LED Shoebox Light with Slip Fitter Mount, 4000K features:
Ideal for parking lot lighting, street lighting, and site and streetscape lighting
Motion sensor compatible
Photocell sensor compatible
CRI: 70
Color: Bronze
Save on lamp and ballast replacement costs with LED technology
0-10V dimmable
6" extruded arm mount
Excellent thermal design
IP65 rated
5-year Warranty
50,000 life hours
Operating Temperature: -22 °F to 122 °F
Equivalent wattage: 400-750W
Lumen Output: 19,073lm
Product Specification
Manufacturers Parts Number
LED-FXSB180/3S/40K/DB-EA6
Manufacturer Description
naturaLED Area Light constructed with durable, die-cast aluminum housing and excellent thermal design. Our SB series is perfect for parking lots, streets, walkways, and streetscape, providing you with uniform and consistent color. A wide range of wattage selections equal to 150 watt to 1,000 HID fixtures, reducing maintenance and saving lamp & ballast replacement costs. Our fixtures are DLC certified and IP65 rated with 3 types of mounting options available: Swivel Bracket, Slip Fitter, and 6" Extruded Arm. Compatible integrated autonomous and photocell motion sensors are available as options to address your needs.
NaturaLED LED-FXSB180/3S/40K/DB-EA6 Reviews