General Protecht DG15TR-BRBR-B 15 Amp Tamper Resistant GFCI w/ LED, Brown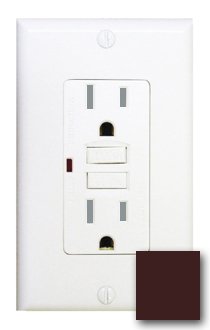 All Clearance Sales Are Final!
Item Number
GP-DG15TRBRBRB
Shipping
Usually Ships 1 to 2 Business Days
Comparable GFCI Outlet Products
General Protecht DG15TR-BRBR-B Description
The Class A Rated Brown 15-Amp tamper resistant GFCI (Ground Fault Circuit Interrupter) duplex outlet provides electrical shock protection and prevents the risk of electrical fire caused by ground fault current. This GFCI has a built in end-of-life feature which automatically alerts the user that the receptacle is no longer effective and needs to be replaced. The tamper resistant receptacle has a spring loaded shutter that will close off the opening to prevent insertion of small foreign objects which helps improve child safety. This 15-Amp tamper resistant GFCI can be easily installed in a typical wall switch box for both residential and commercial applications. As of 2008, National Electrical Code (NEC) requires that GFCI receptacles must be installed in all wet & damp environments such as a kitchen, bathroom, laundry room, basement & break room. NEC also requires that all new and renovated facilities must use tamper resistant receptacles in all construction projects.Wall plate sold separately. Wall Plate is Included.
Product Specification
Manufacturers Parts Number
DG15TR-BRBR-B
Manufacturer Description
Exceeds UL943 (2008) & cUL943 (2008) technical requirements
Brown 15 Amp 125V Tamper Resistant GFCI duplex receptacle
Automatic end-of-life detection and warn functions, when GFCI fails, the red signal lamp will auto-warn to remind user to replace
Can sustain up to a 6000 V & 10000 Amp current impulse instantaneously
Wall Plate is Included
Safe-lock design, assures fixed state while tripped
Prevents Line reversal miss-wire: GFCI cannot be reset and no power to the outlet if wired incorrectly
Adapted duplex outlet faceplate, load terminal can load common receptacle and other home appliances which also have ground fault protect functions
Wiring screw provides improved tension disc construction, making 10# - 14# AWF copper wire reliable connection
Overload and anti-jamming abilities
Made of GE LEXAN 24IR High-impact resistant thermoplastic which is resistant to shock, heat, corruption and moisture
Works reliably in temperatures from -31 to 151 Fahrenheit
Green grounding screw as grounding connector for easy installation and recognition
Provides permanent electro-magnetic motion
Class A Rated GFCI
UL & cUL Listed
General Protecht DG15TR-BRBR-B Reviews