USI 15 Amp GFCI Outlet, Tamper & Weather Resistant, White
USI Electric G1415TWRWH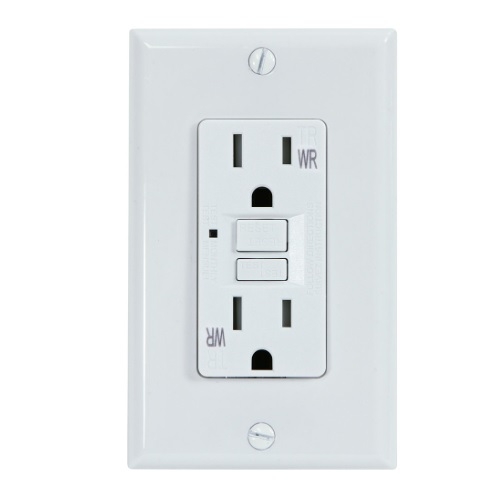 USI Electric's GFCI Outlets offer self-testing technology promoting continuous safety for the life of the receptacle. Shop HomElectrical for more products today!
Color / Finish

Free Shipping (Eligible For Most Orders Over $75)
In stock
Usually Ships 3 to 7 Business Days
Comparable GFCI Outlet & Receptacle Products
USI Electric G1415TWRWH Description
USI Electric 15 Amp. GFCI Outlet, Duplex Receptacle, Weather Resistant, White Features:
Tamper resistant material
Automatic self-testing for continuous outlet saftey
End-of-Life trip indicator light
Large test and reset buttons ideal for both residential and commercial installations
Backwire or sidewire compatible, 14 AWG solid or stranded copper wire
Captive screws for wall plate and device included
Weather-resistant model, perfect for outdoor applications
60 Hz, 125 Volt
Meets 2015 UL943 safety standards, NEC, CEC Requirements, and CSA C.22.2 No. 144.1 and Certification requirements
14.57in(L)x4.88in(W)x3.66in(H)
Product Specification
Manufacturers Parts Number
G1415TWRWH
Manufacturer Description
The USI Electric 15 Amp Self-Test GFCI Tamper-Resistant Receptacle Duplex Outlet includes an Automatic Self-Testing feature that continuously ensures an outlet's safety. The inclusion of a tamper-resistant construction will restrict access from single-prong objects such as keys, nails and other items. This USI Outlet includes an End of Life Indicator that will provide a notification when the GFCI (ground fault circuit interrupter) no longer delivers power. Large Test and Reset Buttons that match GCFI color make USI Tamper-Resistant Outlets an ideal addition for residential and commercial installations. USI Electric Self-Test Tamper-Resistant Duplex Outlets meet a series of standards, requirements and certifications.
USI Electric G1415TWRWH Reviews