Never Seez 1 lb. Can Anti-Seize & Pressure Lubricant
Never Seez NSBT-16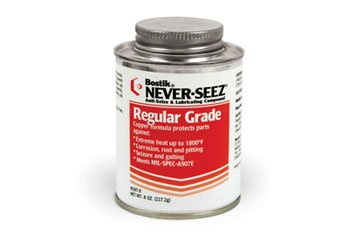 This item is currently out of stock. Order now and we'll deliver when available. We'll email you with an estimated delivery date as soon as we have more information.
Comparable Lubricant & Greaser Products
Never Seez NSBT-16 Description
Never Seez Regular Grade Compound keeps parts working for a longer span of time and with less wear. Compound protects parts from rust, corrosion, carbon fusion and seizure at high temperatures.
Size: 1 lb.
Flash Point: 482.00°F
Package: Brush Top Can
Pressure: 32000.00 psi (tensile)
Temperature Range: -297°F min / 1800°F max
Product Specification
Manufacturers Parts Number
NSBT-16
Never Seez NSBT-16 Reviews