Honeywell White Pipeliner Welding Helmet
Honeywell 110-WH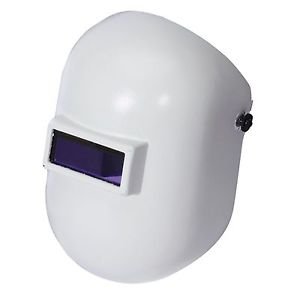 This welding helmet from Honeywell provides a comfortable safety frame that protects the user from serious eye damage while preforming intense welding jobs.
In stock
Usually Ships 1 to 2 Business Days
Comparable Welding Helmet Products
Honeywell 110-WH Description
For your next welding job, be sure to use the Honeywell Fibre-Metal White Pipeliner Welding Helmet for guaranteed face protection. This comfortable helmet uses a constant-fit rubber headband that allows for frequent re-adjustments as you move about your pipe welding work. Features a compact design that enables access where a standard helmet could not cover and protect.
Color: White
Lens Coating: #10
Mounting: Fixed Front
Window Width x Length: 2" x 4.25"
Product Specification
Manufacturers Parts Number
110-WH
Manufacturer Description
The industry standard for pipe welding. Provides everything pipe welders need in a helmet to be safe and productive under the harshest welding conditions. Compact design allows access to areas where there is no room for a standard helmet. Comfortable, functional headgear uses a constant-fit rubber headband for frequent re-adjustments as pipe welders move about their work.
Honeywell 110-WH Reviews