on 12/19/2018

Created in 1985, the CE mark, or CE certification, is a label found on electronic goods sold in the European Economic Area (EEA). However, even if you do not live in Europe, you may still notice the CE mark on items you purchase locally.
HomElectrical is here to explain why you see the label and what it means for you as a consumer or manufacturer.
What Does "CE" Stand For?
The abbreviation "CE" stands for the French phrase Conformité Européene, which directly translates to mean "European Conformity." This name derives from the fact that products with the CE mark conform to European consumer safety and environmental standards.
What Does the CE Mark Mean?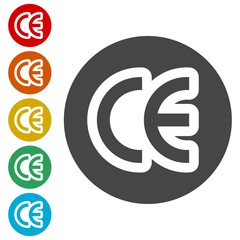 This certification is mostly required for electronics and, among other things, assesses a device's electromagnetic compatibility.
Electromagnetic compatibility ensures that a device can be used without interfering with other electronics.
The CE mark also guarantees consumer health and safety as well as products' compliance with environmental protection regulations.
Why Do U.S. Manufacturers Need to Obtain a CE Mark?
Many products manufactured outside of Europe will still bear a CE mark. This is because products must meet European standards if they are to be sold in the EEA.
Even if products obtain other similar certifications in their country of origin, they still need to be cleared for distribution within the European Economic Area.
This rule applies to products manufactured in the United States, even if they already pass U.S. consumer safety regulations.
Which Products Require a CE Mark?
Most electronics sold in the EEA require a CE mark. Here is a list of product categories that typically require a CE certification:
Medical devices

Appliances that release gaseous fumes

Cables used for human transfer

Construction equipment

Products advertised as eco-friendly or energy-efficient

Water boilers

Explosives and pyrotechnics

Low-voltage electronics

Measuring tools

Radios and recreational equipment

Electronics that contain hazardous substances

Electromagnetic compatibility (EMC) devices

Toys
Who Is Legally Responsible for Affixing a CE Mark?
Typically, the manufacturer affixes the CE mark to a product after undergoing a series of legal steps. Importers are responsible for ensuring that manufacturers followed the proper steps for certification.
However, if a distributor sells a product under its name, then the distributer is responsible for obtaining and affixing the CE certification.
In order to legally obtain the CE mark, you must perform a conformity assessment and create a technical file. Then, you must sign a declaration of conformity distributed by government officials according to the proper legislation.
Access to these documents must be available to authorities upon request.
The product standards of one region can have a global effect. The CE mark is just one example of how governments protect consumers. To find electronics and construction equipment with a CE certification, shop HomElectrical today!
Watt Do You Think?
Have you noticed any products with a CE mark?
Make sure to let us know in the comments below, and don't forget to connect with us on Facebook and Twitter!
Other Blogs You May Like: