King Innovation Shock Alert PRO Electric Shock Drowning (ESD) Alert System w/ Smart Controls
King Innovation 42605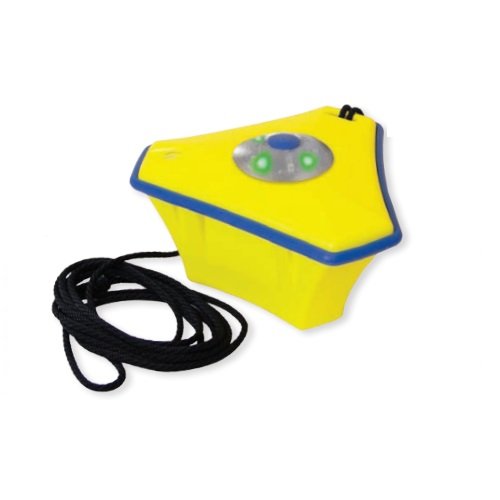 Shock Alert detects electrical voltage gradients to prevent electric shock drowning in pools, around docks, and in fountains using visual and auditory indicators.
In stock
Usually Ships 3 to 7 Business Days
Comparable Specialty Measuring Tool Products
King Innovation 42605 Description
King Innovation Shock Alert PRO - Electric Shock Drowning Alert System w/ Smart Controls Features:
Sync with your smart phone for real time voltage gradients with the Shock Alert App
Shock Alert App is user friendly and syncs/connects with any smart device through Bluetooth
The Shock Alert App also has the ability to take photos
Exports data for maintenance records and future access to track progress and keep track if servicing multiple pools
Detects electrical voltage gradients in water, both indicates voltage and locates source
Flashing warning, audible warning, and increasing warning indicators indicate the present of voltage in water
Max electricity withstand in water: 120 AC
Comes with 12 foot rope tether
Requires 3 AA Batteries (Not included)
Should be used when:

Servicing pools
After pool installation
After pool winterization
After renovating pools
Any time a new electrical device is installed or serviced in a pool

For use in:

Fresh water pools
Chlorinated pools
Salt water pools
Concrete, granite, or vinyl lined pools
Around docks
Fountains or water features

Should not be used in fiberglass pools or hot tubs
Product Specification
Color / Finish
Blue, Yellow
Manufacturers Parts Number
42605
Manufacturer Description
Shock Alert has three probes on the base of the device designed to detect this potentially dangerous voltage gradient(s) in water. It provides a visual and audible alert to the existence of potentially hazardous voltage conditions in the body of water. Note that Shock Alert is a sensitive detection device that will detect small voltage gradients in water. Shock Alert can be used in fresh or chlorinated water. It may also be used in salt water pools. Shock Alert will detect voltage gradients in concrete, gunite and vinyl lined pools. DUE TO THE INSULATING EFFECTS, SHOCK ALERT IS NOT FOR USE IN FIBERGLASS POOLS AND HOT TUBS.
King Innovation 42605 Reviews