Ratchet Lever Hoists
PA-1510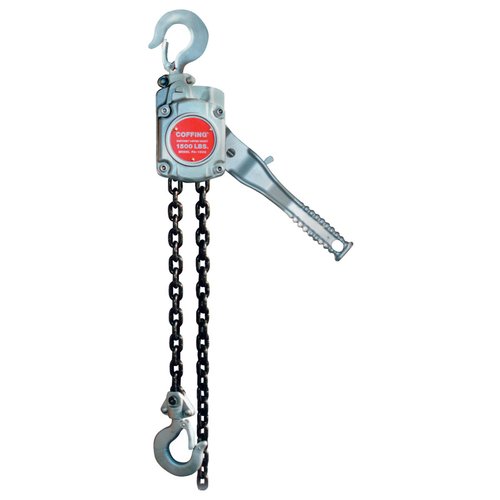 Comparable Grab Hooks & Shackles Products
PA-1510 Description
This compact designed ratchet lever hoist is portable and rigging efficient, featuring a double reduction gearing and a short handle that provides a low handle effort in the cuffing line. Ideal for lifting the ratchet lever hoist is designed with a hardened steel load chain that provides high strength and resists wear.
Wt. Cap.: 3/4 tons
Lifting Height/Take-Up: 10.00 ft.
No. of Falls: 1
Pull Force: 37 lb. [Max]
Head Room: 12 in [Min]
Handle Length: 12 in
Mounting: Hook
Material: Aluminum Alloy
Operating Type: Ratchet
Manufacturer Description
08461 3/4T ALUMINUM LEVER HOIST W/10' LIFT
Compact design increases portability and rigging efficiency. Double reduction gearing and short handle provide lowest handle effort in the Coffing line. 360 rotating handle provides versatile rigging options when used in confined spaces. State-of-the-art fr
Material: Aluminum Alloy
Mounting: Hook
Weight: 17 lb.