Excell Metal Oasis Smoker's 4.5 Gallon Black Receptacle
Excell Metal EXCSRS1HCCL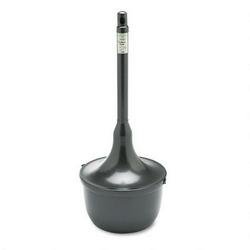 Comparable Smoking Management Products
Excell Metal EXCSRS1HCCL Description
Smoker's Oasis Smoking Urn will help keep the landscape free of cigarette butts. Self-extinguishing receptacle requires no sand and is easy to clean. Extra large removable galvanized steel pail holds thousands of cigarette butts. Weather and UV resistant finish will not melt or burn when exposed to extreme conditions.
Color:Black
Size: 4.5 Gallon
Extra-Wide Base: Resists tipping
Self Extinguishing: Suffocates the cigarette
Covered top: Keeps rain and other weather out
Vinyl Base Pad: Protects the floor from damage
Product Specification
Manufacturers Parts Number
EXCSRS1HCCL
Manufacturer Description
Smokers\' Oasis Receptacle, Round, Steel, 4 1/2 Gallon
Includes one each.
Contains recycled content.
Contains recycled content.
Excell Metal EXCSRS1HCCL Reviews