General Tools Methane, Propane, Butane Portable Gas Leak Detectors
General Tools NGD268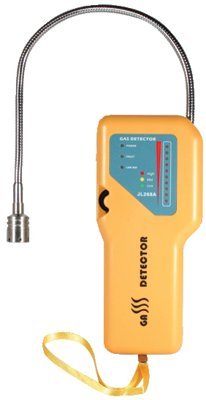 This item is currently out of stock. Order now and we'll deliver when available. We'll email you with an estimated delivery date as soon as we have more information.
Comparable Power Tools Products
General Tools NGD268 Description
Portable Gas Leak Detectors provide a quick response and feature a 3-color leak indication for Methane, Propane, Butane etc. It also comes equipped with LED & audio indication, a Gas concentration alarm and adjustable sensitivity.
Gas Type: Methane, Propane, Butane etc.
Includes: Batteries
Height: 3 1/4 in
Length: 12 1/2 in
Width: 8 1/2 in
Product Specification
Manufacturers Parts Number
NGD268
Manufacturer Description
PORTABLE GAS LEAK DETECTOR
Quick response. 3-color leak indication. LED & audio indication. Gas concentration alarm. Adjustable sensitivity
Gas Type: Methane Propane Butane etc.
Height: 3 1/4 in
Includes: Batteries
Length: 12 1/2 in
Width: 8 1/2 in
Weight: 2 1/4 lb
General Tools NGD268 Reviews