on 06/22/2018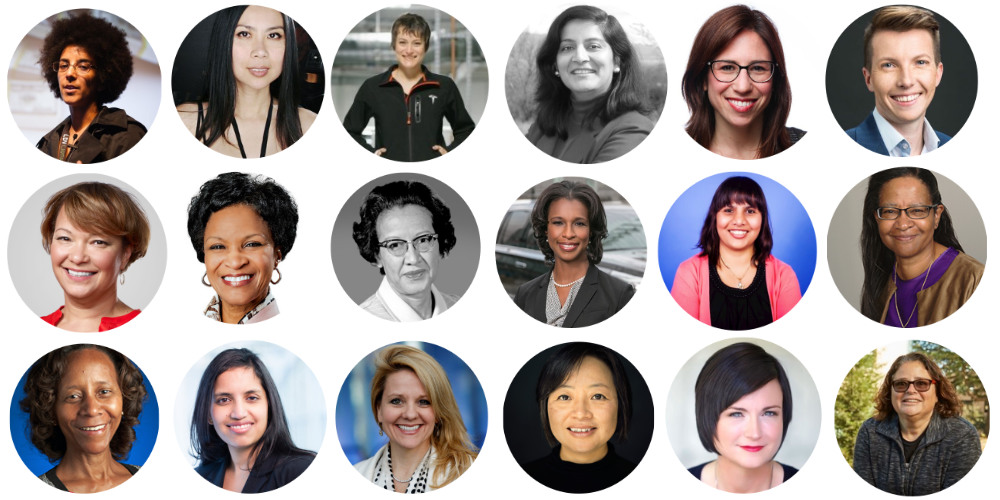 Women have been transforming the world of digital technology for centuries, and during International Women in Engineering Day, there isn't a better time to observe the groundbreaking ladies in STEM (Science, Technology, Engineering, and Mathematic) professions. All over the world, women are breaking boundaries, tearing down obstacles, and facing challenges along the way.
So, this is a time to celebrate them! In the spirit of inclusion, we come together to focus some well-deserved attention on a few women, to showcase their remarkable career, young and old. These women are not only intelligent and fabulous, but they have paved the way for future generations of leaders, innovators and role models of young women all over the world.
Here is our list of some of the world's most acclaimed female leaders:
Donna Auguste

Former Senior Engineering Manager, Apple

Donna Auguste conducted research in applied science and artificial intelligence at Carnegie Mellon University, where she became the first African American to receive a PHD. 

Auguste then went on to work for IntelliCorp as a software engineer, and later founded her own company, Freshwater Software Inc.

One of her most well-known contributions to the field of technology is her work with the Newton personal digital assistant, commonly known as Apple's MessagePad.

Auguste worked with a team developing handwriting recognition software, that paved the way to the modern technology of today!

Li Fan

Senior VP of Engineering, Pinterest

Li fan leads a team of over 400 engineers that work on developing Pinterest's visual discovery engine. This visual search tool helps businesses and marketers all around the world to leverage traffic and conversions for a variety of commercial products. 

Prior to Pinterest, Li was the senior director of engineering for Google, where she helped create the company's image search tool. 

Li's work helps develop a number of marketing and advertising tools, and she continues to help Pinterest expand its reach.

Marian Croak

VP of Research and Development for Access Strategy and Emerging Markets, Google

Marian Croak began her career with AT&T (formally Bell Laboratories).  Working alongside a team of engineers, she advocated for the switch from wire technology to Internet protocol, the foundation for today's modern networks. 

Over the years she has developed network technology and hundreds of patents related to one of her most famous contributions, voice over internet protocol or VoIP.  

After 32 years with AT&T, Croak left to join Google as the VP of Research of Development for Access Strategy and Emerging Markets.

As a network strategist, her main efforts are focusing on expanding internet access around the world, and she is making a huge global impact!

Lisa Jackson

Senior VP of Environment, Policy, and Social Initiative, Apple

As Apple's Vice President of Environment, Policy, and Social Initiatives, her main role is furthering Apple's sustainable practices while promoting the use of renewable energy sources.

As a chemical engineer, Jackson ensures Apple's continual growth by keeping the company's focus on sustainability.  She is the first African American woman to hold the position of Administrator for U.S. Environmental Protection Agency during the Obama Administration, as well as advocating for the importance of national sustainability. 

Lisa is currently working to expand Apple's efforts while increasing the company's commitment to using 100% recycled material.

Timnit Gebru

Post Doctorate Researcher, Microsoft

Timnit Gebru is the most acclaimed spokesperson and researcher in the world of artificial intelligence. Most of her focus and research is on the sociological impact of smart technology.

While her interests are largely focused on solving image recognition and domain adaptation issues, Gebru is a true advocate for boosting diversity in the AI field.

After realizing she was the only black woman attending a major AI conference, she founded her own startup, Black in AI, to advocate for the inclusion of African Americans in her field.

Now as a post doctorate researcher at Microsoft, Gebru's focus is motivated by raising social awareness toward the potential negative impacts of AI.

Meredith Westafer

Senior Industrial Engineer, Tesla

Meredith Westafer oversees the design layout of Tesla's Gigafactory that produces lithium-ion batteries for the company's electric vehicles.

Westafer's main role as Senior Industrial Engineer is managing space and logistics ensuring an effective flow of manufacturing materials. 

One of Westafer's most significant contributions is her design of an autonomous delivery system completely run by mobile robots. The automatons deliver materials along Tesla's production lines. 

Westafer's received her bachelor's degree in Industrial and Management Systems Engineering from the University of South Florida, and holds a master's degree in Engineering Management from USF as well. 

Denise Gray

President and CEO, LG Chem Power Inc.

Denise Gray received a Bachelor's degree in Electrical and Electronics Engineering from Kettering University and earned her master's in Engineering from Rensselaer Polytechnic Institute.

Gray started as a Systems Engineer for General Motors, where she worked to develop electrical components for the 1997 Corvette. While at GM, Gray oversaw the software testing and protocols for the vehicle's powertrain control systems.

Currently, Gray is the President and CEO of LG Chem Power Inc., a large manufacturer of lithium-ion batteries used in automotive and industrial applications.

One of Gray's most well-known contributions at LGCPI is her design for the 2017 Chevy Bolt.

Karen Casella

Engineering leader, Netflix

Karen Casella is the Engineering leader at Netflix, where she's responsible for ensuring privacy and security for the users. While Casella's passion for engineering continues to grow over the years, she is an advocate for diversity and inclusion of young women and the LGBTQ+ community.

Casella focuses on leadership and social change to drive women working in technology, and she sees herself as a role model to young women.

One of her most major contributions as an Engineering Leader for Netflix is her work to develop a system where users could download movies and shows without internet connection.

Caitlin Kalinowski

Head of hardware, Oculus

Caitlin Kalinowski is the Head of Hardware at Oculus, where she oversees the product design of virtual reality products, such as the Oculus Rift, Touch, and Gear VR. 

Her interest in technology was sparked at a very young age where she was privy to dissemble almost every toy and gadget that her parents gifted her.  Before her work at Oculus, Caitlin worked with Apple leading the design of the MacBook Air. 

Her most influential contributions to the world of technology is her work to develop innovative virtual reality technology.

During an interview with Medium magazine, Caitlin commented, "It's really exciting to be a part of the team driving both Rift and Touch, and to ensure that people are not only blown away by the technology, but by the experiences that bring that technology to life." 
"Intelligence without ambition is like a bird without wings."
~Salvador Dali~
Stay Connected
Who are some of your favorite female pioneers?
If you liked this blog, let us know in the comment section below!
For more blog updates, funny memes, cool videos, free giveaways, and more follow us Facebook and Twitter!
You may also enjoy reading: