on 08/23/2017

The Energy Star building certification is free to file. However, there are certain licensed professionals that must verify the building before the application can be submitted. Before beginning your paperwork, there are a few things you will want to verify.
What are the pre-requisites for applying?
Must score a minimum of 75 points out of 100 in regard to energy efficiency. To check your buildings current score, you can use your Energy Star Portfolio Manager application. You score determines how your building is performing nationally in comparison with similar buildings. For example, if your score is 50 (out of 100), your building is running at average efficiency. The buildings scoring 75 or higher demonstrate that they are operating at a higher performance rate. Top Energy Star Certified Buildings in Atlanta
Is your energy score lower than you would like? Learn how to increase your score with our Energy Saving Tips!
Must be located in either the United States, a United States territory, or be owned by the United States government.

Must meet the defined purpose of one building type listed below: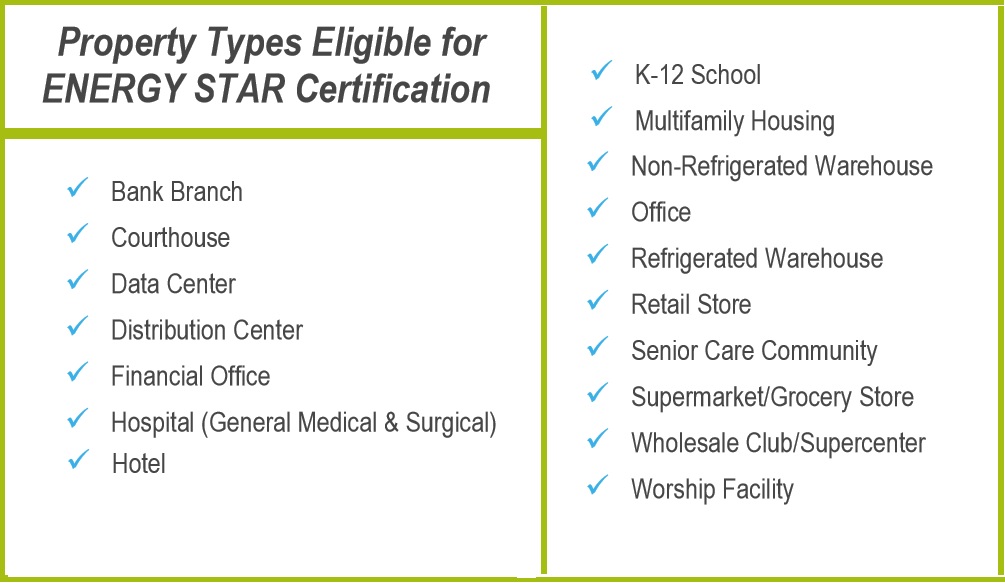 Steps to Earning Building Certification 
When the application process begins, you will be asked to describe the purpose of your building. Activities that occur in the building, building occupants, size, and other details to help understand the property and its use.
Additionally, you will need to answer specific questions regarding the type of building you are trying to certify. There are four common specifications you will want to know:
Gross Floor Area (GFA): this is the total space of your building (rentable area and non-rentable area). This would include the space between all exterior walls (but not include any outdoor areas).
Irrigated Area: This refers to the square footage of outdoor area that is watered regularly. This specification will be required for water scores.
Construction Date: The year that the building being certified was built will need to be supplied. This date does not affect your energy score, but is used to compare buildings.
If your building has been gutted and a rebuilding of the interior has occurred, then the date of remodeling can be supplied in place of year built.
Occupancy refers to the percentage of your GAF that is occupied and operational. This percentage does not affect your energy score, but could affect your eligibility for certification.
A few property types require minimum occupancy percentages for certification.
Need more help figuring out what these specifications are? Click here!
Along with these details, you may have to provide additional specifications specific to your building type. Why Should I Energy Star Certify my Building?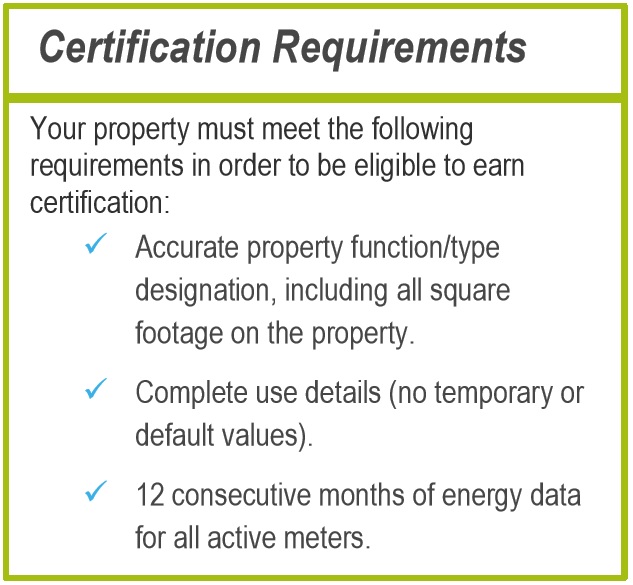 Once your eligibility has been verified and the licensed professional signs off on your building, you will have a few more steps to complete on your Portfolio Manager:
Enter your inspection date (when your licensed professional approved the building)
Your certification tracking number (provided on each page of your paperwork)
Scanned PDF of the signed paperwork
From here you may receive additional questions from the Environmental Protection Agency (EPA) while they review your application for certification.
Congratulations! You have successfully applied your building for an Energy Star Certificate!
Make sure you re-apply each year to continue receiving your Energy Star Building Certification!
Connect with Us!
Are you or anyone you know in the construction industry, and interested in obtaining building certification? Have you already received Energy Star certification?
Tell us about your experience in the comment section below!
Don't forget to follow us on Twitter for current blog updates and like us on Facebook!