Milwaukee Hardwood Frame Furniture Carpeted Moving Dolly
Milwaukee Tool 33800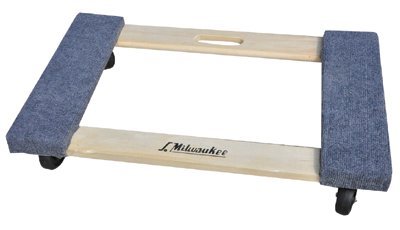 Comparable Platform Truck Products
Milwaukee Tool 33800 Description
The furniture dolly mover hold up to 800 pounds at a time making it easy to transport bulky and heavy items, boxes, appliances and much more. It is designed with carpeting on the two raised ends offering grip and cushion while protecting wallls from scratches.
Caster Diam: 3 in
Caster Width: 1 1/4 in
Caster Type: Blended Poly
Width: 18 in
Length: 30 in
Material: Hardwood Frame
Product Specification
Manufacturers Parts Number
33800
Manufacturer Description
18"X30" FURNITURE DOLLY800LB. CAP.
Carpeted at ends
Length: 30 in
Material: Hardwood Frame
Width: 18 in
Weight: 16 lb
Milwaukee Tool 33800 Reviews